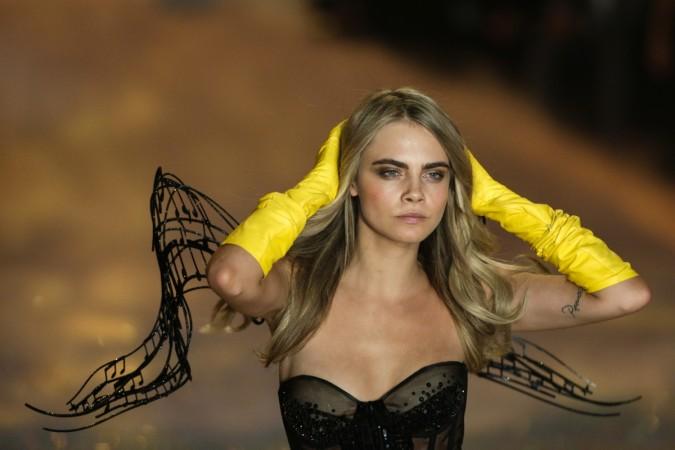 English model and actress Cara Delevingne and American actress Ashley Benson seem to confirm their dating rumors. The two were spotted sharing a passionate kiss at Heathrow airport on Aug 14 in London.
According to the pictures obtained by the Daily Mail, the 26-year-old Valerian and the City of a Thousand Planets actress and the 28-year-old Pretty Little Liars star did not shy away from showing their affection from each other. Adding on, Benson was also wearing a gold 'C' pendant around her neck.
Rumours that they are romantically involved started in May when they were reportedly seen leaving a Lauryn Hill concert together. Latest, on Aug 8, Entertainment Tonight reported that the duo were seen out at Sofitel LA Riviera 31's Salsa Nights in Los Angeles, celebrating Delevingne's birthday.
A source told the website, "Cara and Ashley were enjoying each other's company, sitting closely together at a front row table by the dance floor. When the two weren't sitting, they were intimately dancing with each other and laughing throughout the night."
Delevingne has always been open about her sexuality. Earlier, during an interview with The Telegraph, she said, "I think people shouldn't be scared of that. I'm young, I'm having fun, I don't want to pretend to be something I'm not."
"So I don't really care on that matter. People can say what they want, but I'm having a good time. I know what people are doing who are my age; I just think it would be a lie to pretend that I'm not having a good time."
"The funny thing is, I always used to have more guy friends. At school, I was a tomboy and it would be me and all my guy friends. But now... I don't know. It's kind of changed quite a bit. I still have my old friends from school, but I think..." she went on.
"I don't meet men now who just want to be my friend. It doesn't really happen that much. They're just shallow like that. Unless it's one of my girlfriend's boyfriends, most guys are not like, 'Oh, we should just be mates.' I think it's harder to become friends with guys," Delevingne said and added, "because guys just want to have sex with you."