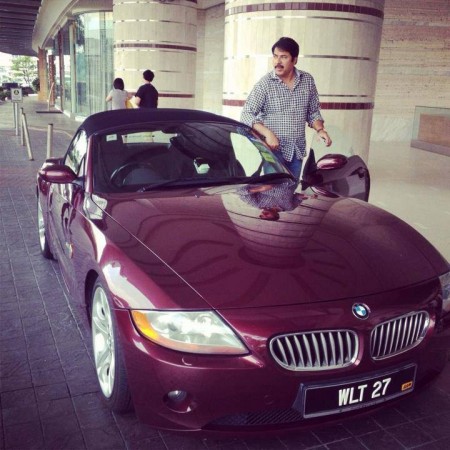 Malayalam superstar Mammootty, a car lover who owns 369 four-wheelers, has expressed his desire to buy India's first Maruti 800 that is lying unused for over a year now.
Some 32 years ago, Indian Airlines employee Harpal Singh won Maruti Suzuki India Limited's first Maruti 800 car in a lucky draw. Its keys were handed over to Singh by then-Prime Minister Indira Gandhi at a grand ceremony on 14 December, 1983.
Singh, who died in 2010, treated his first car with immense care all his life. However, India's first Maruti 800 has hardly been used after his wife Gulshanbeer Kaur's death in 2012.
The car is lying unused outside the couple's Green Park residence in Delhi for more than a year now. Their children took the car out for short rounds for a few months, but evetually stopped the practice. Maruti Suzuki recently said that it may be interested in buying it back and is ready to discuss the same with Singh's family.
Meanwhile, Malayalam actor Mammootty also expressed his desire to buy the first Maruti 800.
"Let us buy it, what shall we do it," he said on learning about the poor condition of the car and added that he sees the history of India in this car. In fact, he has also requested Maruti Suzuki to allow him o buy the car.
"This is not just a car; this is the four-wheeled miracle that brought vehicle revolution to the common man. I still remember the day car was handed over to Harpal Singh and the news that followed with it. This vehicle had become the superstar then," Mammootty said, Mathrubhumi reports.
Mammootty said that Singh's family may have reasons as to why the car is lying unattended at a corner of his house, but he wants to preserve it for the future generation.
"There may be many reasons that the owner's children can give, but it is our responsibity to protect it. I'm ready to buy it; not for me, but for the future generation, to remind them that India started moving with this car," Mammootty said.
In fact, Mammootty's first car was also a Maruti. Of the 369 cars Mammootty possesses, three are Maruti products.
Mammootty's fans also want him to own the vehicle. He is the first and only celebrity who came forward to buy this car.