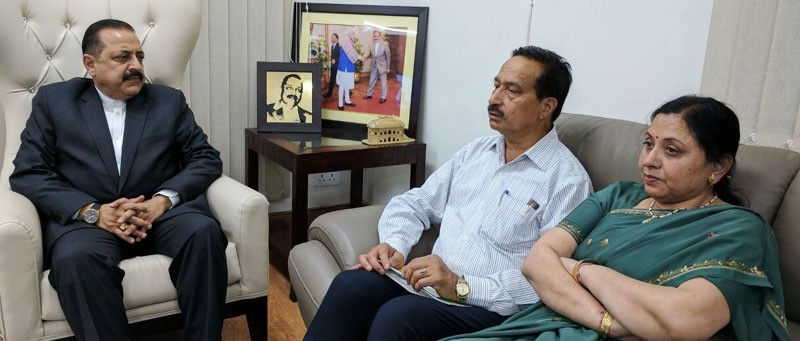 Udhampur railway station in Jammu and Kashmir is likely to be named after Captain Tushar Mahajan, an Indian Army officer who sacrificed his life fighting terrorists at Pampore in Pulwama district last year.
On Tuesday, Union Minister of State (Independent Charge) for PMO Dr Jitendra Singh told Captain Tushar Mahajan's parents that it has been discussed by the Central government. The parents of Captain Tushar Mahajan were in Delhi to receive Shaurya Chakra (posthumous) on behalf of their son.
"Most of the formalities required for the naming of the railway station have already been completed and the procedure has gone through different departments and ministries while the final call is to be taken by the Union Ministry of Home Affairs," Dr Singh said.
While acknowledging the honour bestowed upon Captain Mahajan, Dr Singh said that the nation is eternally indebted and no award or prize can ever repay for the supreme sacrifice of bravehearts like the Indian Army officer.
"It is because of these young boys that we are able to carry on with our daily routine in safe environs. These youngsters stay awake when we sleep, they remain empty stomach when we eat and they lay down their life so that we can remain alive," he said.
Captain Tushar Mahajan's father Dev Raj Gupta thanked Dr Singh for all the timely and prompt assistance provided by the government.
Dr Singh also appreciated the decision taken by Dev Raj Gupta and his wife Asha Rani to set up a trust in memory of Captain Tushar Mahajan and said that he would be keenly willing to contribute to the Trust in whichever manner possible.