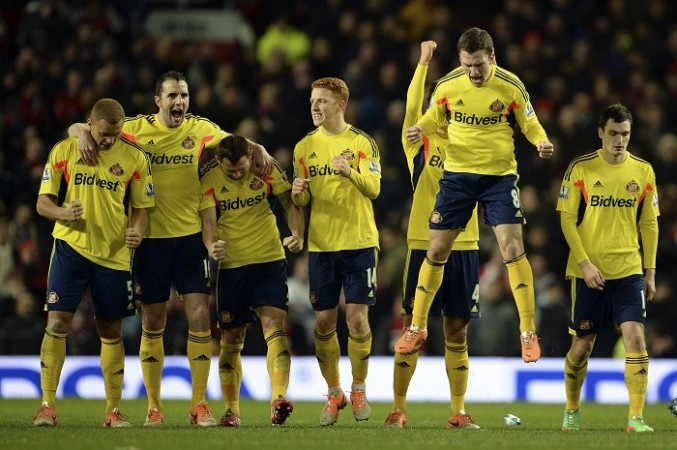 In a dramatic game that just never ceased to relent, Sunderland booked their place at Wembley by sealing a thrilling penalty shootout win against Manchester United in the semifinals of the Capital One cup after the tie finished 3-3 on aggregate.
Sunderland, second from bottom in the English Premier League, came into the game at Old Trafford, leading 2-1 from the first leg, a deficit which was erased by United defender Jonny Evans courtesy a header in the 37th minute.
The away goals only come into play after extra time in the Capital One Cup, and United were seemingly on their way to doing just that when a calamitous error from David De Gea allowed Phil Bardsley to score in the 119th minute.
However, the tale twisting was not quite done, as the man for the late goal, Javier Hernandez slotted home off a cross from Adnan Januzaj to force the tie into penalties.
The shootout did not go quite according to plan for David Moyes and his side, though, with Danny Welbeck and Phil Jones firing over the bar, while Januzaj had a penalty saved by former Arsenal goalkeeper Vito Mannone.
Darren Fletcher was the only United man to find the back of the net, with Sunderland scoring via Marcos Alonso and Ki Sung-Yueng, while Craig Gardner fired high.
That meant United right-back Rafael had to score his penalty, but Mannone stepped up to the plate in some style to send Sunderland to Wembley, where they will face Manchester City in the final.
"He [Vito] was the man," Sunderland manager Poyet told SAFSee after the dramatic end on Wednesday. "I said to the players that I believed in Vito and that he is going to save one so make sure you score yours -- I didn't expect him to make so many.
"I was quite confident with the penalty takers but it didn't work, so then it had to be Vito having an exceptional night and [then] even the players were singing a verse of his name which is a great feeling for him.
"I think the idea was just to try and realise what we had done, we were on penalties after two legs and extra-time against Manchester United away from home and that was already a big achievement.
"Everything we've tried to convince the players, everything we believe in, they wanted to do it. We worked hard, it was incredible, it was unexpected, it was a great night of football - a great, great cup game.
"It's been hard, it's been very difficult for the players so it's nice to enjoy and it's nice to enjoy a victory like today because it's something that's very special for everybody."