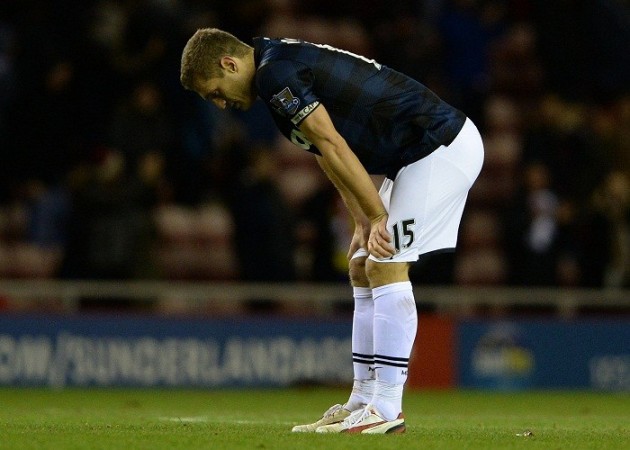 Ever since taking over David Moyes has been breaking records left, right and centre; unfortunately for Manchester United not the kind of marks that they wanted to be broken.
After Everton picked up their first league win at Old Trafford since 1992 last month, Newcastle followed that up with their first since 1972, which was then followed by Swansea picking up their first ever at Old Trafford.
Now, just when you thought things could not get worse, Sunderland planted another nail in Moyes' coffin by managing their first win over Manchester United since November 2000, courtesy their 2-1 victory in the Capital One Cup semifinal first leg at the Stadium of Light on Tuesday night.
That loss also proved to be United's third consecutive loss, following up home defeats to Tottenham, in the league and Swansea in the FA Cup - the first time that has happened since 2001.
Thanks to another abject performance, against the English Premier League's bottom side, United will now have to find their mojo at Old Trafford in a couple of weeks' time to claw back the 2-1 deficit.
Sunderland opened the scoring via an unlikely source - a Ryan Giggs own goal. Giggs could only turn the ball into his own net under pressure from Phil Bardsley, after an initial freekick from Sebastian Larsson which was then shifted on by Wes Brown, a former United player.
The away side, without their two premier strikers - Wayne Rooney and Robin Van Persie - yet again, fought their way back seven minutes into the second half with skipper Nemanja Vidic heading home off Tom Cleverley's corner.
However, United would be the perpetrators of their own demise yet again as Cleverley was penalised for a clumsy challenge on Adam Johnson inside the box, with on-loan Liverpool forward Fabio Borini stepping up and coolly slotting home the winner from the spot on 64 minutes.
United threw the proverbial kitchen sink in the final minutes, but Sunderland calmly bombed them back to complete a thoroughly impressive victory.
It really is crisis time for Moyes now, and the Scot has nowhere to hide when United next take on Swansea in the Premier League on Saturday.