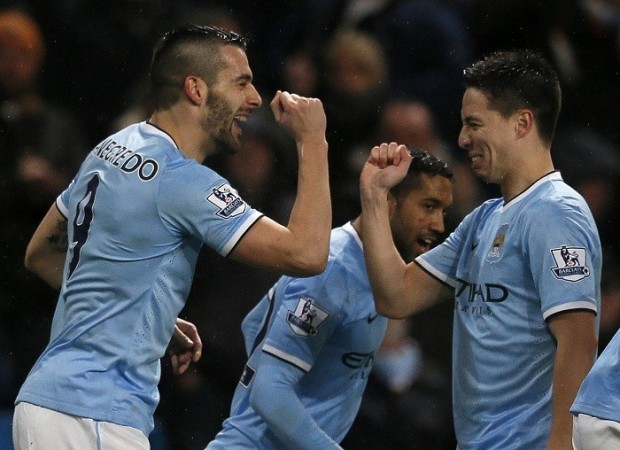 In another Etihad Stadium master class, Manchester City virtually booked their place at Wembley courtesy a 6-0 thrashing of West Ham in the Capital One Cup semifinal first leg.
How-good-a-summer-signing-is-he Alvaro Negredo smashed a hat-trick, with another of City's seemingly endless striker list Edin Dzeko grabbing a brace, while Yaya Toure also got in on the scoresheet.
Much was made of West Ham's 5-0 loss to Championship side Nottingham Forest in the FA Cup third round on Sunday, with manager Sam Allardyce deciding to put out a youth side for that particular fixture, with this semifinal in mind.
However, that strategy backfired with City slamming another London club for a six, after their 6-0 and 6-3 wins over Tottenham and Arsenal respectively -- making the three scorelines look like a straight set win in tennis.
City started in a menacing mood right from the off, with Pablo Zabaleta and Javi Garcia coming close, before Negredo inevitably opened the scoring in the 12th minute.
Yaya Toure, given are-you-kidding-me space in the middle of the park, had time to pick out a long ball for Negredo who let it drop brilliantly over his shoulder before unleashing a left-footed drive which goalkeeper Adrian could do little about.
Negredo, after David Silva and he-is-starting-to-look-like-the-player-at-Arsenal Samir Nasri had come close, then made it 2-0 on 26 minutes, taking a through ball from Dzeko to slot home.
On 40 minutes, Toure, not happy with just an assist, grabbed a goal for himself charging through the running-for-cover West Ham defence to ease the ball to the back of the net.
While the game was well and truly done by halftime, City ensured the tie was also over bar the shouting with Negredo completing his hat-trick courtesy a curler past Adrian - his 18th goal of the season, just one behind Sergio Aguero.
Left-backs Gael Clichy and Aleksandar Kolarov then provided assists for Dzeko to complete a brace of his own as City strolled yet again at the Etihad.
The second leg, in two weeks, at Upton Park looks academic now with West Ham needing a prayer and then some to even make the tie interesting.