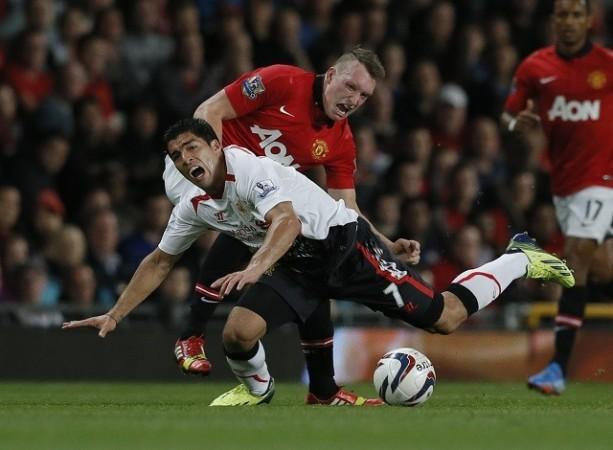 Bouncebackability is what Manchester United pride themselves on.
On Wednesday night, Javier Hernandez was the hero as United edged past Luis Suarez and Liverpool 1-0 in a tense and entertaining Capital One Cup third round encounter at Old Trafford to put the ghosts of the Manchester Derby behind them.
Defending champions Swansea saw their run ended early, with Championship side Birmingham City beating last year's winners 3-1, while Newcastle got the better of Leeds United 2-0.
At Old Trafford, both sides made a few changes to their starting lineup, with David Moyes giving starts to Javier Hernandez, Shinji Kagawa and Nani in the attacking front.
Brendan Rodgers chose to play with three centre-backs with Jordan Henderson and Jose Enrique acting as wingbacks while Suarez expectedly made his much-awaited return.
United came out of the traps quicker, making the much brighter start with Nani and Kagawa looking lively on the wings, while the desperation on Hernandez to score a goal and make an impression was evident.
Wayne Rooney, United's best player in the last couple of games, did not have much of an influence early on as United's best opportunity in the opening exchanges came when Nani picked out Hernandez with a cute ball, with the Mexican's strike blocked out for a corner.
Suarez, at the other end looked eager and impatient to get the ball and possibly make a run at the defence, but United's control in the early stages meant the Uruguayan had to wait a bit to make his trademark runs.
Liverpool did have a couple of chances in the first half as well, with Suarez nearly finding a way through after trying to take down a long pass. The move was snuffed out by goalkeeper David De Gea.
Liverpool grew into the game as the match progressed, with Daniel Sturridge and Suarez linking up dangerously on a couple of occasions with United then ending the half stronger, but neither side were able to find that opening goal.
United were at the receiving end of a killer blow right at the start of their last game against Manchester City, but it was the home side that struck this time around.
Javier Hernandez was afforded acres and acres of space inside the box, despite Liverpool having three strong centre-backs at their disposal, with the striker gleefully steering in a Rooney corner within the first minute of the second half to send David Moyes crazy in delight at the touchline.
Liverpool nearly struck back after a few minutes, with Suarez and Sturridge combining well before the ball found its way to Henderson, who struck his shot wide.
Nani then hauled himself down inside the penalty box at the other end under the challenge of Henderson, but referee Mark Clattenburg was unmoved.
It was an end-to-end game now with Suarez running down the middle before seeing his shot fail to find a way through the United bodies.
Suarez' persistence created another opening, but the net just refused to bulge for the Uruguayan.
United were now happy to play on the counterattack, and Nani was presented with a nice opportunity just before the hour mark. De Gea's long goalkick picked out Hernandez, who then found Kagawa. The Japanese laid the ball to Nani, who fired high and wide.
De Gea was called into action on 70 minutes when Henderson's ball in found its way to Enrique on the far post, who in turn picked out Victor Moses - the Nigerian's header was well saved by the Spanish goalkeeper.
Suarez, who was having a bit of a shooting contest, then struck the top of the crossbar with a freekick as Liverpool went into overdrive in search of the equaliser.
Rooney then forced a really good save from Simon Mignolet with a freekick of his own, with another strike off the resulting corner from the United frontman leading to another save.
Liverpool threw the kitchen sink at the United defence in the final moments, but a goal just would not materialise as United picked up a much-needed win.
Results: Birmingham 3-1 Swansea; Manchester United 1-0 Liverpool; Newcastle 2-0 Leeds United; Tranmere 0-2 Stoke.