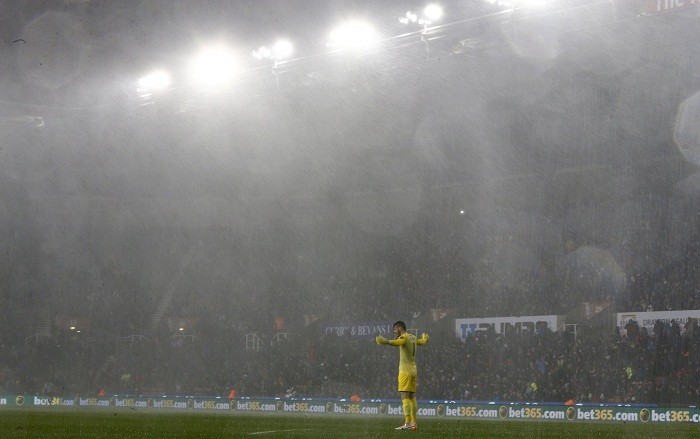 Manchester United came out feeling warm and cosy after sealing their semifinal place in the Capital One Cup courtesy victory at storm-filled Stoke, while Tottenham's woes refused to ease up with West Ham, yet again, getting the better of their fellow London side.
United saw their match at the Britannia against Stoke interrupted just before the half-hour mark as Mark Clattenburg called the players off with the referee unable to see the proceedings in the middle during a hailstorm.
That interruption lasted about ten minutes, but failed to spark either side, cold and weather-beaten, to life in a forgettable first half.
In such conditions, it was always going to take a moment of quality or an awful mistake to find a way through, and United produced two of the former to move into the final four with a 2-0 victory.
The first goal came in the 62nd minute via the boot of Ashley Young, who lashed in a 20-yard effort with aplomb for his first goal in over a year and a half.
"As soon as I hit it, I felt like it was going in," Young told MUTV of his goal. "You could see from my celebration how much it meant to get on the scoresheet -- it's been a little while! I was delighted to get the goal, but getting through was more important."
Twelve minutes from time Patrice Evra ensured United's Cup run would continue, finishing nicely with his right foot after taking a pass from goalscorer Young.
"I've never played in conditions like that," Evra said. "It was really difficult and that's why we have to give a lot of credit to everyone because it's not easy when you go to a place like Stoke -- it's a big battle. To win 2-0 and keep a clean sheet, we have to be really pleased with that performance.
"[The weather] was punishing. When we came out [after play stopped] we were a bit sloppy. That's why, in the second half, the manager wanted us to start much better. When the rain and hail stopped we kept playing our football. That was important, we kept playing the ball on the floor. That made the difference."
In the other quarterfinal, West Ham, who play Manchester United in the English Premier League at the weekend, just would not give Spurs any breathing room, as Sam Allardyce's men came from behind to seal a 2-1 win at White Hart Lane.
"It's a relief. For me, the challenge is to get the players to kick on from this," Allardyce, whose side lie just off the relegation zone in the English Premier League, told West Ham TV. "When we beat them last time, I thought we'd go on a run of results and pick up more points than we have done. I don't know where we'll go from here but it's just a fantastic result and the lads are absolutely delighted.
"You have got to play to your best to give the fans something to cheer about and we have sent them home extremely happy, having beaten the old enemy again, twice on the trot. It's just a delight for them and, in the end, a delight for us as players and staff."
Emmanuel Adebayor, restored to the starting lineup after being frozen out by Andre Villas-Boas, who was sacked earlier this week, opened the scoring for Spurs in the 67th minute, volleying home brilliantly off a cross from Jermain Defoe.
However, Matt Jarvis would equalise ten minutes from time, before Modibo Maiga's header five minutes later ensured yet another miserable outing for Spurs.
"We started the game well and should have scored early but the ball didn't run for us," caretaker manager Tim Sherwood said. "We were forced to make the changes which meant we lost a bit of rhythm.
"Ade had to come off, Danny Rose had to come off otherwise you risk losing them for a long period during the season. We turned over possession a lot in the second half when we just should have kept the ball.
"West Ham came at us, played direct and broke us down in the end. I'm absolutely gutted."
Manchester United next face Sunderland in the semifinals, with West Ham taking on Manchester City.