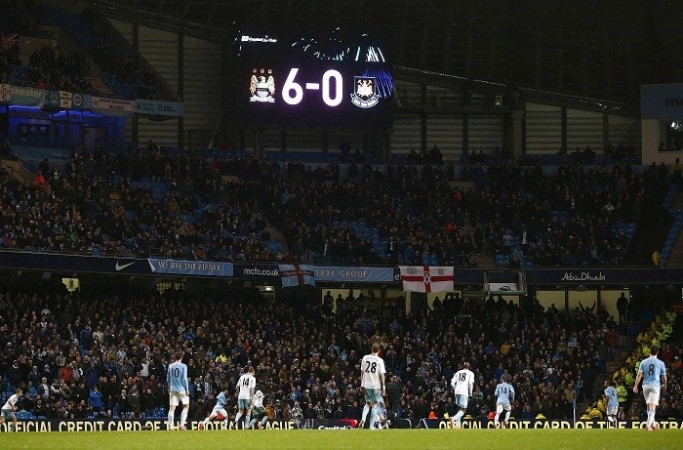 Manuel Pellegrini was grinning from ear to ear after seeing his Manchester City side put another English Premier League team to the sword.
City were at their ruthless best at home yet again, thrashing West Ham 6-0 in the Capital One Cup semifinal to put one rather large foot in the final at Wembley.
"In football, nothing is ever certain so we can't go to London thinking the second leg is just a formality," Pellegrini said on Wednesday night while urging caution despite another mesmerising performance. "It's not over, but we've taken a big step towards the final after tonight.
"We are not in the final yet, but we are very close and if you play football the way we have been doing I think you have a better chance of being successful. It's important for all big teams to win every competition they are in and that's what we are trying to do.
"We would be proud to go to Wembley and it would be fantastic for us to take part in the first major final of the season, but as I say, we still have a job to do."
Alvaro Negredo continued to impress in the absence of top scorer Sergio Aguero, scoring a hat-trick, with strike partner Edin Dzeko netting a brace while Yaya Toure grabbed one for himself.
"I was pleased for Alvaro this evening and it would be hard for him to play much better because he scored three goals, worked very hard to win a lot of balls and he gave a very complete performance," Pellegrini added.
"I was also pleased he linked up so well with Dzeko because maybe that hasn't always worked as well at times as it did tonight, but the more they play together, the better they get.
"That Alvaro is having such a good first season in England doesn't surprise me at all because I've known what he is capable of after watching him for many years in Spain."
Meanwhile, Sam Allardyce had nothing much to say but admit West Ham, reeling from a 5-0 loss to Nottingham Forest in the FA Cup third round and languishing in the relegation zone in the English Premier League, had lost to the better side, a team which, barring a Champions League loss to Bayern Munich, have been unbeatable at the Etihad Stadium this season.
"We are very disappointed obviously, but to look at Manchester City's record at home this season and what they have done to Tottenham and Manchester United, and Arsenal -- we knew they had to have an off night and we had to have a really good night from our point of view," Allardyce told Sky Sports.
"The fact of the matter was that Manchester City's finishing was outstanding, never mind the build-up play. Outstanding in every sense of the word.
"We have a struggling defensive unit at the moment because of injuries and down on a bit of confidence. We have a left-back [George McCartney] playing centre-half that we got on a free transfer and it is not fair on him playing against Negredo and Dzeko today, but that is how it is.
"We got Roger Johnson who has just come and I thought he did a good job. He did as well as he could even though we got beat 6-0, but that is the problem, we haven't got a fully-fit squad. We are in a bit of hole at the moment and we have to dig ourselves out.
"Now it is not as if they hadn't done this to anyone else, if this was a team we came to and they beat us 6-0 and they hadn't done that to anyone else this season you would say this is not good enough, but we tried our best against a side that has got outstanding players because they play outstanding money. What do you expect when you have got lads who are free transfers against lads who have cost hundreds of millions and are paid hundreds of millions of pounds in wages?
"You can do better than we have done but I need a fully-fit squad and have a little more confidence than we have today, but when they do Manchester United, Tottenham and Arsenal then sometimes you have to take it on the chin.
"It is not the right time for us to get beat 6-0, we wanted to do better in the semifinal but face facts they are a miles better squad than us and have miles better players than we have got and certainly when we want to compete against a team like Manchester city we want our best team out on the field and we can't get that out at the moment, so we have to wait until we can and try and refocus for Cardiff in just a couple of days."