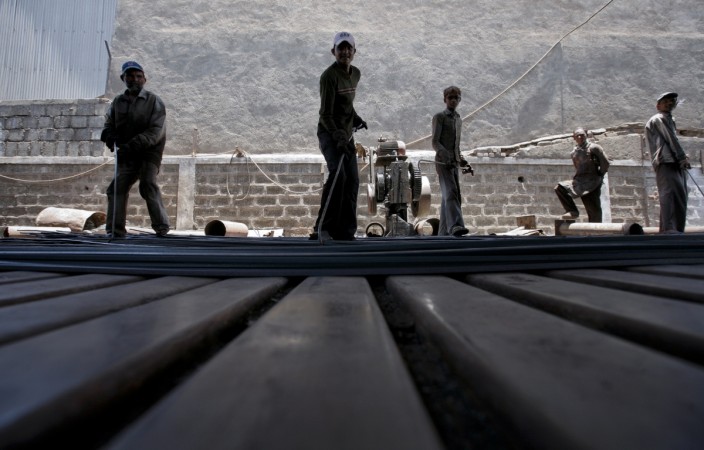 Now that almost two months of demonetisation-led pains have started to ease for the common man, it's time to face facts and figures for the industries. With the onset of the third quarter FY2016-17 (Q3FY17) earnings results, it would be interesting to gauge which industry bore the maximum brunt. Needless to say, cash-dependent capital goods sector companies will be keenly watched by analysts and investors alike.
Blame it on demonetisation: India's services activity hits 3-year low
In its latest report, HDFC Securities is of the view that the notes ban could have negatively impacted the sector with the companies working in the Engineering Procurement Construction (EPC) section – in which India's largest engineering and construction firm Larsen & Toubro (L&T) operates – feeling the heat as there exists a higher number of contract labourers who are paid in cash.
Interestingly, larger players in the capital goods sector are expected to report muted to average performance in Q3, while several smaller companies are likely to come up with a good set of numbers.
The brokerage expects L&T, Cummins and Voltas to perform average, Suzlon, Inox Wind, Kalpataru Power, Triveni Turbines, Crompton Greaves, KEC International, Techno Electric and Sanghvi Movers to report a good quarter, while Thermax is likely to witness a bad Q3.
For example, the brokerage says had it not been for demonetisation, L&T could have been able to clock a higher revenue growth. It expects L&T to report approximately four percent year-on-year (YoY) revenue growth for the quarter.
Overall, revenue for the entire sector is likely to witness 10 percent growth year-on-year (YoY), but EBITDA (earnings before interest, tax, depreciation and amortization) margins are expected to contract by about 40 basis points YoY.
"The confluence of weak private sector capital expenditure and demonetisation would mean muted revenue growth for Thermax (+four percent YoY), Cummins (+six percent YoY) and Voltas (+three percent YoY). Order flows continue to be dominated by public sector capital expenditure like power transmission, roads and railways. Power generation orders were muted with no large order finalisation during the quarter. Visibility on pick-up in defence and domestic hydrocarbon orders would also be watched," HDFC Securities analysts said in the report.
A pick-up in execution for orders won in the last six-nine months would substantially improve quarterly numbers of Kalpataru Power and Techno Electric. Suzlon and Inox Wind are also likely to report strong revenue growth. However muted order inflows would imply a decline in their order books.
Suzlon may report strong volumes of 400 MW in Q3FY17 (vs 256 MW YoY); O&M (operation and maintenance) revenues are expected to grow two percent sequentially. With depreciation in INR vs USD, Suzlon is likely to report a forex loss in Q3FY17.
For Kalpataru Power, a strong revenue growth of about 23.4 percent YoY in Q3FY17 is expected and margins are likely to be stable at 10.5 percent, while PAT may grow at 21.5 percent YoY.
Moreover, management commentary on any expected recovery in execution in the fourth quarter would be keenly watched.
Preferred top picks by HDFC Securities: Triveni Turbine, Kalpataru Power and L&T.