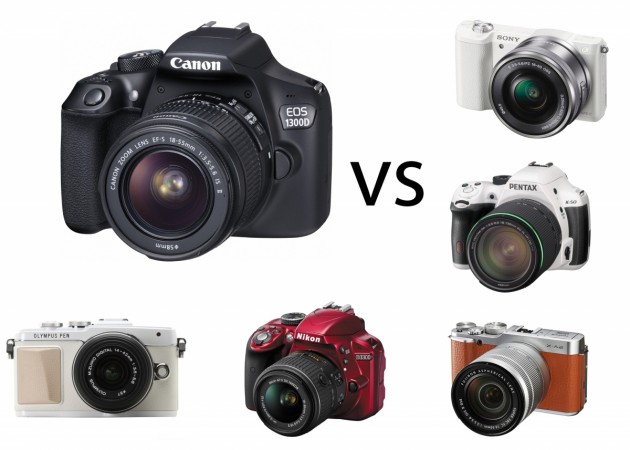 Canon recently announced the latest addition to its DSLR line-up, the EOS 1300D. It packs an 18.0 MP APS-C sensor, the same one that did the rounds in the 1200D, but features an upgraded DIGIC 4+ processor and an ISO range that tops off at 12,800 (extended range). With prices starting at just under Rs. 30,000, the product seems like a good deal, but here's what else one can consider before picking the camera up.
Nikon D3300
Though it's dated and there's no word yet on when the replacement for it is coming, the D3300 is definitely worth considering if the EOS 1300D is on your mind. For starters, the camera was awarded the Best Entry-Level DSLR award for 2014 as well as the best Digital SLR award for the Entry Level category by the Technical Image Press Association (TIPA). Snapping the pictures is a 24 MP sensor and Nikon's Expeed 4 processor. In terms of ISO, the Nikon's tops off at 25,600 with boost. The D3300 offers more auto-focus points, which adds up to 11, as opposed to the Canon's nine. Both cameras offer a 3" LCD screen with roughly 9,20,000 dots. The D3300 also scores over the Canon product when it comes to burst mode, capturing five frames a second against Canon's three. The D3300 is also lighter, has better battery life and gives users more flexibility while shooting video. The 1300D comes with built in Wi-Fi and NFC connectivity, while the D3300 does not. The list price for the Nikon is upwards of Rs. 40,000, but the market rate online seems to be somewhere closer to half that.
Sony Alpha a5100
With a 24 MP APS-C sensor at its heart, the Sony Alpha a5100 is Sony's entry-level mirrorless interchangeable lens option. Comparing specs, one immediately notices major differences between the Alpha a5100 and Canon 1300D. The a5100 features an insane 179 AF points, an articulating LCD, Wi-Fi and NFC, a burst mode capable of shooting six frames a second, a host of video options. However, the Sony misses out on a few key fronts. Being a mirrorless, the Sony doesn't offer a viewfinder and all shots will need to be framed using live view. This adds to Sony's woes as battery life is reduced to 400 shots as opposed to Canon's 500. However, the Alpha a5100 is also much lighter at roughly 300g vs the Canon product's 485g. The Sony carries a base price tag of Rs 46,000 and prices online are close to Rs. 41,000.
Read more: Canon announces EOS 1300D entry-level camera, to be available in India by April.
Fujifilm X-A2
Fujifilm has also embraced the mirrorless interchangeable camera format and their entry-level camera, the Fujifim X-A2 is not a camera to be overlooked. The camera features Fujufilm's own 16 MP APS-C sensor and carries a price tag of Rs 52,000, according to Fujifilm India's online store. It has a burst mode of 5.6 frames per second and an ISO range that can be extended up to 25,600. The battery life is rated at 410 frames and interestingly, this is the only entry-level camera with metal in its construction. The 3" screen flips up, making it good for selfies and Fuji has also allow users to make their images look like they were shot using some of Fuji's best films. The camera also features wireless image transfer and geo tagging. It has 49 autofocus points and weighs 350g. Fuji also claims that the camera is dust- and water-resistant and can be operated in temperatures as low as -10 degrees Celsius. The camera interestingly, carries a price tag of $549, which is what the Canon 1300D costs as well.
Olympus E-PL7
Yet another mirrorless option, the Olympus E-PL7 is a micro four-thirds camera that offers a faster flash sync speed of 1/250 second, 8 fps in burst mode, in-body image stabilisation and an articulating LCD screen with over 1 million dots. However, Canon 1300D offers better battery life (500 shots vs the Olympus' 350)and a larger APS-C sensor with a crop factor of only 1.6x as opposed to the E-PL7's 2x. The 1300D is also priced better, as the Olympus E-PL7 costs $599 for just the body and $699 with the kit lens included.
Pentax K-50
Pentax's K-50 offers the kind of features typically found in higher-end DSLRs. The camera is weather sealed, comes with two dials to adjust exposure, has a burst mode of 6 fps, a stainless steel chassis, in-body image stabilisation and a maximum shutter speed of 1/6000 sec. There are 11 AF points to play with, but comes with the added downsides of being much heavier and offering poorer battery life. It also features only a 16 MP sensor and carries a price tag of $599 for just the body and $779 when bundled with the kit lens. However, the camera can be picked up online for about Rs. 44,000.