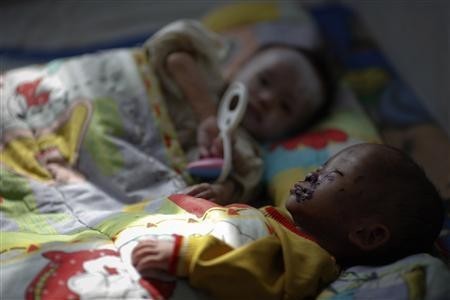 Amid reports of rising food shortage, shocking incidents of cannibalism were reported in North Korea.
An independent news agency in Japan, Asia Press, which claimed to have a network of citizen journalists scattered in North Korea, cited various incidents of cannibalism that were later published by The Sunday Times.
The Japan-based agency reported that a man was executed by the firing squad after he killed his children for food. Narrating the shocking incident to the agency reporters, an informant from South Hwanghae said that the man killed his eldest daughter first while his wife was away on business. On realising that his son had witnessed the crime he killed the boy too.
When his wife returned the man offered the flesh of his children claiming it to be meat. His wife grew suspicious about the food and informed the matter to officials who on investigation found remains of the children's bodies at their home.
The report cited a citizen journalist as saying, "There was an incident when a man was arrested for digging up the grave of his grandchild and eating the remains."
"In a village in Chongdan county, a man who went mad with hunger boiled his own child, ate his flesh and was arrested," a middle-ranking official of the ruling Korean Workers Party told Asia Press.
Officials have not responded to the report which is claimed to be credible by several media.
The report stated that around 10,000 people were killed due to famine in south of Pyongyang last year. They also stated that cannibalism was most likely to spread throughout the country.
This is not the first time that cannibalism was reported in the country. Various cannibalism incidents have been reported since the onslaught of severe famine in the 1990s.
While the nation starves, its supreme leader Kim Jong-un is allegedly spending huge amounts of money towards the development of basaltic missiles, besides threatening an attack on arch enemy South Korea.