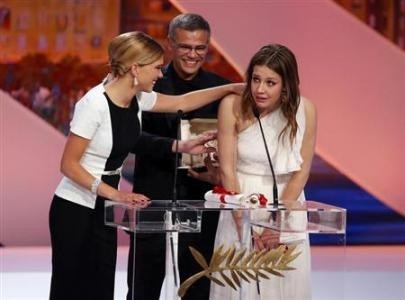 The Cannes jury panel gave away the prestigious Palme d'Or to the intrepid lesbian romantic film "Blue is the Warmest Colour" at the French film festival on Sunday.
The film, directed by Tunisian-born director Abdellatif Kechiche and starring French actresses Adele Exarchopoulos and Lea Seydoux, was applauded for its sensitive and warm take on the love story of a 15-year-old girl and an older woman. The film created quite a buzz with its lengthy and explicit love scenes.
The Palme d'Or given was given to the director along with the two leading actresses.
Speaking on the occasion, Kechiche said, "I should like to dedicate this film to the wonderful youth of France whom I met during the long period while making this film."
"Those young people taught me a lot about the spirit of freedom and living together."
Jury member Steven Spielberg, revealing the choice of the award as unanimous, told reporters, "For me, the film is a great love story and the fact that it is a great love story made all of us feel like we were privileged, not embarrassed, to be flies on the wall but privileged to have been invited to see this story of deep love and deep heartbreak evolve from the beginning, in a wonderful way where time stood still. We were just happy that someone had the courage to tell the story the way they told it."
Asked whether the recent political developments (France Legalising Gay Marriage) influenced the jury's decision, Speilberg said, "Politics was not a companion in our discussion; it was not in the room," reported The Guardian.
British director Lynne Ramsay who was also a part of the jury said, "Everyone on the jury saw behind the gay relationship, it was just a love story, and it didn't matter if it was gay or straight."
The second coveted award Grand Prix went to Cohen Brother's bleak comedy, 'Inside Llewyn Davis'. The film's actor Oscar Issac collected the prize on behalf of the directors.
Mexican filmmaker Amat Escalante won the best director award for "Heli", a film on Mexico's blood-drenched drug wars.