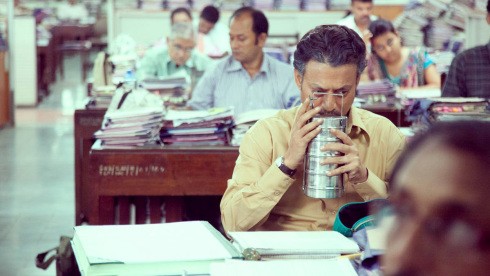 Indian director Ritesh Batra's debut film "The Lunchbox" (Dabba) was bestowed the Critic's Week Viewers Choice award at the ongoing 66thCannes film festival.
The film starring Irrfan Khan, Nawazuddin Siddiqui and Nimrat Kaur is about a fantastical affair between a government official and a neglected housewife that begins after the wrong 'dabba' reaches the former.
Ever since its premiere in the Cannes Critic's week, the film has gained immense popularity and was a likely favourite.
Confirming the news of the award, Irrfan Khan tweeted, "Just got the news the lunchbox won its first award at Cannes."
The film's producer Anurag Kashyap, whose efforts at promoting Indian cinema around the world earned him the title of Knight of the Order of Arts and Letters by the French government, seemed jubiliant wit the honour. "It's begun.. Lunchbox wins critics week viewer's choice award.. It's called the Golden Rail or something.. Yay," he tweeted.
Speaking about the film actress Nimrat Kaur told a website, "It's so simple and yet it's so universal. It's about two people who haven't quite kept pace with the way the world works. It's so charming. It's such a fantasy. I'd love this to happen to someone I know."
Actor Irrfan Khan, who has been the most visible Indian face in Hollywood, elaborated that the film's unique and appealing love story drew him into doing the project.
"So this(film) has a kind of emotional world which was very sweet, very unique, and very interesting. And I'm fond of doing love stories. I didn't get chance to do love stories in my life, so I keep looking for love stories and this gave me a chance to play a love story."
The film's review by Variety reads, "A feel-good movie that touches the heart while steering clear of expectation, "The Lunchbox" signals a notable debut from tyro helmer-scripter Ritesh Batra. The ingredients on their own are nearly fail-proof, yet it's the way Batra combines food with an epistolary romance between a nearly retired number cruncher and a neglected wife that hits all the right tastebuds."