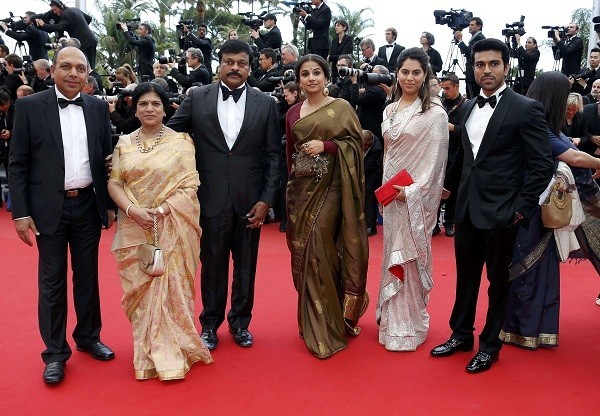 The 66th Cannes Film Festival, which kicked off on 15 May, has been witnessing a host of Indian celebrities attending the 11-day carnival.
This year's festival has been special for India as it celebrates 100 years of Indian cinema. Prominent film celebrities including Aishwarya Rai, Amitabh Bachchan, Sonam Kapoor, Vidya Balan, Karan Johar and Anurag Kashyap are attending the festival in a bid to either promote their films or the products they endorse.
The year seems to be great for Tollywood as well at the Cannes film festival. Director S S Rajamouli's film "Eega", which received accolades nationally, was selected to be screened at the Cannes Film Market (Marché du Film) on 20 May. The Marché du Film is one of the largest film markets in the world and is also the business counterpart of the Cannes Film Festival, which runs through 26 May.
Union Tourism Minister Chiranjeevi, a former actor hailing from Andhra Pradesh, will be inaugurating the Incredible India exhibition at the Cannes Film Festival today (20 May), in a bid to promote Indian cinema as the sub-brand of "Incredible India".
"The Ministry of Tourism's activities at Cannes Film festival 2013 include screening of "Incredible India" promotional films during the promotional events and meetings between leading Film Directors and Producers to promote India as the "Incredible Filming Destination".The objective has been to enable the collaboration and partnerships for promoting India as a filming destination for films and documentaries," according to a statement from the Ministry of Tourism.
Chiranjeevi was accompanied by his wife Surekha Konidala, son Ram Charan Teja (popular Telugu actor) and his wife Upasana Kamineni to walk the red carpet at Cannes. They were joined by Bollywood actress Vidya Balan, a jury member, at the screening of the film "Inside Llewyn Davis."
Priyanka Dutt's (producer Ashwini Dutt's daughter) short film "Yaadon Ki Baraat" has been selected to be screened at the festival. She will represent Telugu cinema at the prestigious international event.