The 66th Cannes Film Festival kick started on Wednesday with the screening of Baz Luhrmann's film, "The Great Gatsby", a 3D romantic film which is an adaptation of F Scot Fitzgerald's novel with the same name.
"The Great Gatsby", which opens the prestigious film festival, features Leonardo DiCaprio, Tobey Maguire, Carey Mulligan, Joel Edgerton, Isla Fisher, Elizabeth Debicki, Jason Clarke and Amitabh Bachchan. Interestingly, it has hit the theatres in the US and has collected more than $50m at the box office.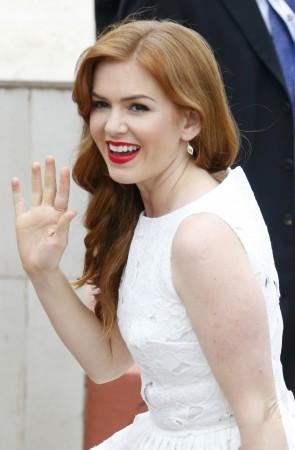 The who's who of celebrities around the world walked the red carpet at the screening of "The Great Gatsby" and for the opening ceremony of the 66th Cannes Film Festival in Cannes on Wednesday.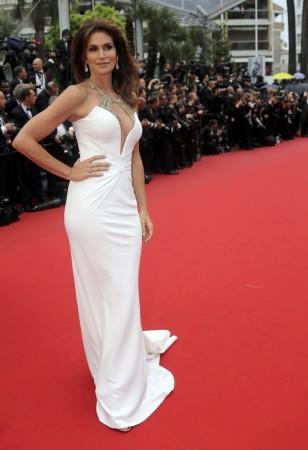 To be hosted by French actress Audrey Tautou and presided by American director Steven Spielberg, the prestigious Palme d'Or award will be announced at the festival which begins on 15 May and ends on 26 May, 2013.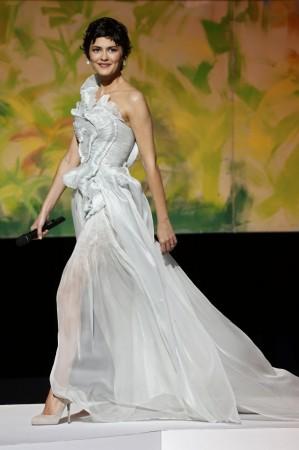 The jury includes Nicole Kidman, Christoph Waltz, Bollywood actress Vidya Balan, Danish director Thomas Vinterberg, French actress Ludivine Sagnier, Chinese actress Zhang Ziyi, Japanese director Naomi Kawase, Scottish director Lynne Ramsay, French actor-director Daniel Auteuil and Romanian director Cristian Mungiu.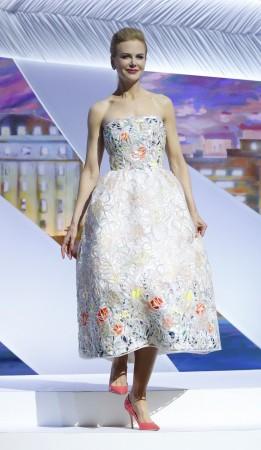 The Cannes Film Festival will also celebrate the 100th year of Indian cinema with a special screening of the film, "Bombay Talkies" by Anurag Kashyap, Dibakar Banerjee, Zoya Akhtar and Karan Johar. Satyajit Ray's 1964 classic, "Charulata" will also be screened at the film fest.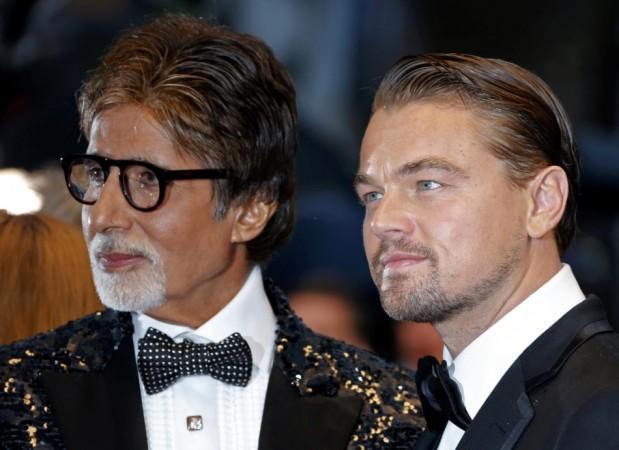 Vidya Balan arrived at the Grand Hyatt Cannes Hotel Martinez on Tuesday on the eve of the opening of the International film festival. She looked gorgeous in a dark brownish-red lehenga, high neck choli and black dupatta which was designed by her friend and designer Sabyasachi Mukherjee.

Other Indian celebrities who will be seen at the event are Aishwarya Rai, Amitabh Bachchan, Rajinikanth, Nawazuddin Siddiqui, Sonam Kapoor, Nandita Das, Sherlyn Chopra and others.
The following films have been selected for the In Competition section according to the official website of the film festival.
IN COMPETITION
Opening Film: Baz Luhrmann - "The Great Gatsby"
Valeria Bruni Tedeschi - "Un Château En Italie" (A Castle In Italy)
Ethan Coen, Joel Coen - "Inside Llewyn Davis"
Arnaud des Pallières - "Michael Kohlhaas"
Arnaud Desplechin - "Jimmy P." (Psychotherapy Of A Plains Indian)
Amat Escalante - "Heli"
Asghar Farhadi - "Le Passé" (The Past)
James Gray - "The Immigrant"
Mahamat-Saleh Haroun - "Grigris"
Jim Jarmusch - "Only Lovers Left Alive"
JIA Zhangke - "Tian Zhu Ding" (A Touch Of Sin)
Kore-Eda Hirokazu - "Soshite Chichi Ni Naru" (Like Father, Like Son)
Abdellatif Kechiche - "La Vie D'adele - Chapitre 1 & 2" (Blue Is The Warmest Color)
Takashi Miike - "Wara No Tate" (Shield Of Straw)
François Ozon - "Jeune & Jolie" (Young & Beautiful)
Alexander Payne - "Nebraska"
Roman Polanski - "La Vénus À La Fourrure" (Venus In Fur)
Steven Soderbergh - "Behind The Candelabra"
Paolo Sorrentino - "La Grande Bellezza" (The Great Beauty)
Alex Van Warmerdam - "Borgman"
Nicolas Winding Refn - "Only God Forgives"
Closing Film
Jérôme Salle - "Zulu" (H.C.)
UN CERTAIN REGARD
Opening Film: Sofia Coppola - "The Bling Ring"
Hany Abu-Assad - "Omar"
Adolfo Alix Jr. - "Death March"
Ryan Coogler - "Fruitvale Station" 1st film
Claire Denis - "Les Salauds"
Lav Diaz - "Norte, Hangganan Ng Kasaysayan" (Norte, The End Of History)
James Franco - "As I Lay Dying"
Katrin Gebbe - "Tore Tanzt" (Nothing Bad Can Happen) 1st Film
Valeria Golino - "Miele" 1st Film
Alain Guiraudie - "L'inconnu Du Lac"
Flora Lau - "Bends" 1st Film
Rithy Panh - "L'image Manquante "
Lucía Puenzo - "Wakolda"
Diego Quemada-Diez - "La Jaula De Oro" 1st Film
Mohammad Rasoulof - "Dast-Neveshtehaa Nemisoozan" (Manuscripts Don't Burn)
Chloé Robichaud - "Sarah Préfère La Course" (Sarah Would Rather Run) 1st Film
Hiner Saleem - "My Sweet Pepper Land"
Rebecca Zlotowski - "Grand Central"
OUT OF COMPETITION
Guillaume Canet - "Blood Ties"
J.C. Chandor - "All Is Lost"
Claude Lanzmann - "Le Dernier Des Injustes" (The Last Of The Unjust)
MIDNIGHT SCREENINGS
Amit Kumar - "Monsoon Shootout" 1st Film
Johnnie To - "Blind Detective"
JERRY LEWIS TRIBUTE
Daniel Noah - "Max Rose"
SPECIAL SCREENINGS
Stephen Frears - "Muhammad Ali's Greatest Fight"
Mohamed Hamidi - "Né Quelque Part" (Homeland) 1st Film
Roberto Minervini - "Stop The Pounding Heart"
Frank Simon - "Week End Of A Champion"
James Toback - "Seduced And Abandoned"
Cinéfondation : Taisia Igumentseva - "Otdat Konci" (Bite The Dust) 1st Film
GALA SCREENING, TRIBUTE TO INDIA
Anurag Kashyap, Dibakar Banerjee, Zoya Akhtar, Karan Johar - "Bombay Talkies"
CANNES CLASSICS
Hal Ashby - "The Last Detail"
Jacques Baratier - "Goha"
Bernardo Bertolucci - "The Last Emperor"
Lino Brocka - "Maynila: Sa Mga Kuko Ng Liwanag" (Manila In The Claws Of Light)
Patrice Chereau - "La Reine Margot" (Queen Margot)
René Clément - "Plein Soleil" (Blazing Sun)
Jean Cocteau - "La Belle Et La Bête" (Beauty And The Beast)
Mark Cousins - "A Story Of Children And Film"
Jacques Demy - "Les Parapluies De Cherbourg" (The Umbrellas Of Cherbourg)
Arielle Dombasle - "Opium"
Marco Ferreri - "La Grande Abbuffata" (The Big Feast)
Diego Galan - "Con La Pata Quebrada" (Barefoot In The Kitchen)
Alfred Hitchcock - "Vertigo"
Ted Kotcheff - "The Apprenticeship Of Duddy Kravitz"
Pierre Lhomme, Chris Marker - "Le Joli Mai" (The Lovely Month Of May)
Joseph L. Mankiewicz - "Cleopatra"
Youri Ozerov, Milos Forman, Mai Zetterling, Claude Lelouch, Arthur Penn, Michael Pfleghar, John Schlesinger, Kon Ichikawa - "Visions Of Eight"
Yasujiro Ozu - "Sanma No Aji" (An Autumn Afternoon)
Satyajit Ray - "Charulata" (The Lonely Wife)
Alain Resnais - "Hiroshima Mon Amour" (Hiroshima My Love)
Francesco Rosi - "Lucky Luciano"
Ousmane Sembene - "Borom Sarret"
Luchino Visconti - "Gruppo Di Famiglia In Un Interno"
Billy Wilder - "Fedora Remastered"
Treva Wurmfeld - "Shepard & Dark"
Valerio Zurlini - "Il Deserto Dei Tartari" (The Desert Of The Tartars)