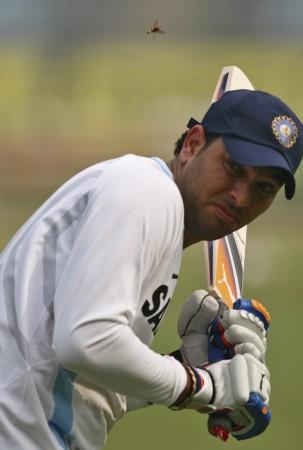 Cancer-stricken India cricketer Yuvraj Singh, who is currently undergoing treatment for lung cancer in USA, is overwhelmed by the support and good wishes pouring in from all quarters. He took to twitter to thank his fans around the world and his well-wishers for their prayers and support.
"Thank you again to all my friends back home! I'm recovering well, yes it's tough but tough times don't last, tough men do! I will fight and come back as a stronger man cause I have the prayers of my nation! Thank you to the media for their support and respecting my privacy," he tweeted.
"Overwhelmed with the love and support people have given me, I feel joy in my heart that so many wishes. Will cure me! Iv read every tweet .." he said.
"Every fan who has wished me watched all videos! Seen how many prayers are said in temples ! I thank you all from the bottom of my heart! and of course everyday I look forward to come back and wear my india jersey my india cap and represent my country again jai hind," he wrote.
He also thanked the BCCI and its president, and politicians like Omar Abdullah, Narendra Modi and Ajay Maken for their support. He said that he is getting better treatment because of them.
On learning that Yuvraj Singh has been diagnosed with cancer, big personalities like Amitabh Bachchan, actress Dia Mirza, former Indian cricketer Sanjay Manjrekar, Harbhajan Singh and many others took to twitters to lend their support for the cricketer.