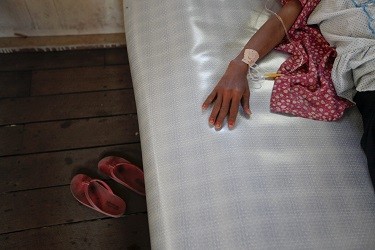 The number of cancer cases in India has increased to 30,16,628 in 2014 from 28,54,451 in 2012, while the number of cancer deaths was up at 4,91,598 in 2014 from 4,65,169 in 2012, the Lok Sabha was informed Friday by Union Health Minister JP Nadda.
In a written reply Nadda said: "The National Cancer Registry Programme (NCRP­) — which generates data on the magnitude and patterns of cancer — is being implemented by the Indian Council of Medical Research (ICMR) based on 29 population-based and 29 hospital-based registries."
As per the official figures, the states of Uttar Pradesh, Maharashtra and Bihar have reported the highest number of cancer cases — 5,03,924; 2,75,672 and 2,65,535, respectively.
"The increase in the number of cancer cases in the country may be attributed to ageing population, unhealthy lifestyles, use of tobacco and tobacco products, and unhealthy diet," Nadda said.
He said the Central government was implementing the National Programme for Prevention and Control of Cancer, Diabetes, Cardiovascular Diseases and Stroke (NPCDCS) to enhance tertiary cancer-care facilities in the country. "The government will assist in setting up of State Cancer Institutes (SCI) and Tertiary Care Cancer Centre (TCCC) in different parts of the country. The maximum assistance, inclusive of state share, for SCIs is Rs 120 crore while for TCCCs it is Rs 45 crore," the minister said in the reply.
"We received 47 proposals for establishment of SCI and TCCCs of which 11 have been cleared and the first installment of central government share has been released," he said.
The Centre released Rs 351.9 crore to the states of Karnataka, Kerala, Tripura, Gujarat, West Bengal, Jammu and Kashmir, and Tamil Nadu during the 2014-15 financial year and Rs 74 crore to Himachal Pradesh, Bihar, Mizoram and Uttar Pradesh in 2015-16.
[1 lakh = 100,000 | 1 crore = 10 million | 100 crore = 1 billion]