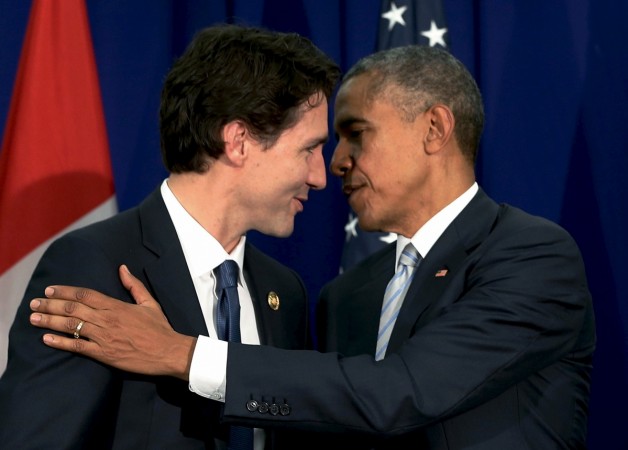 Reigning American President Barack Obama has been recognised worldwide as the coolest politician since the beginning of his first term in the Oval Office. However, ever since the young Justin Trudeau's ascension as the Canadian prime minister, President Obama has been facing some competition in this regard.
Thanks to Marvel, Trudeau has become a comic book character, something that very politicians can brag about. He got a starring role and a cover page illustration in Marvel's upcoming comic book "Civil War II: Choosing Sides," which will be released on Aug. 31.
The cover photo, in which Trudeau sports a maple-leaf tank top and boxing gloves, has been shared by BBC. Cartoonist Ramon Perez, who did the illustration for Marvel says, "Rather than do a stuffy suit and tie rendition of our [Prime minister], I wanted to bring forth more of his personality... He has a very youthful demographic and is present in social media. As well, he has a boxing history, and boxing itself being a part of the short story he appears in, it was the perfect fit."
Also Read: Gather fellow nerds for India's first ever Comic Book Celebration Week
Of course this puts him in the same rank as Obama, but the American president has done this all long before Trudeau. From "The Amazing Spider-Man" comics to "Captain America" comics, Obama has been featured in many of Marvel's storylines. He even has a four-issue mini-series centred on him, called "Barack the Barbarian."
Maganimous that he is, Obama had even acknowledged the rise in Trudeau's popularity during his speech at the 2016 White House Correspondents' Dinner. He said, "Somebody said to me recently, 'Mr. President, you are so yesterday. Justin Trudeau has completely replaced you. He's so handsome, he's so charming, he's the future.' And I said, 'Justin, just give it a rest.'"
Yet again, proving that Trudeau may have a little farther to go before becoming the coolest politician ever.