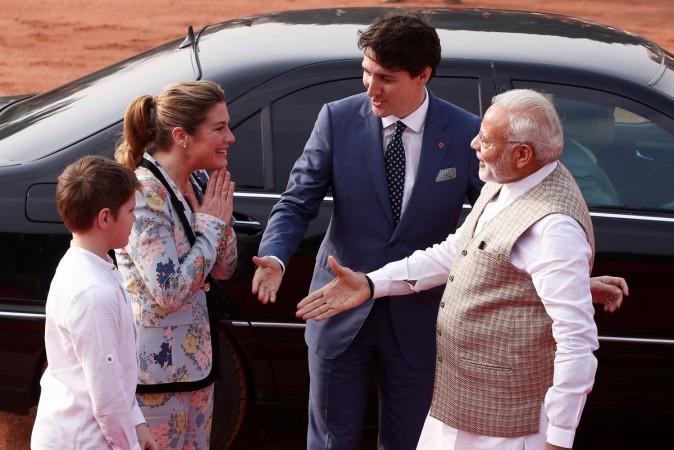 While Canadian Prime Minister Justin Trudeau's visit to India looked exciting as it had everything from fashion to Bollywood numbers, the trip was also marred by quite a few gaffes.
Trudeau recalled his trip to India using a slideshow as he addressed Canada's annual Parliamentary Press Gallery dinner.
"We didn't go to India...I don't remember the India trip," Trudeau said as he compared his experience to that of a pain caused by "the ripping off of a band-aid."
As he proceeded with the slideshow describing pictures from his trip, the Canadian PM said "the beginning of the end" as soon an inverted map of India appeared on the screen that signified his topsy-turvy trip, TOI reported.
Trudeau started describing one picture after another.
"Here I am. Meeting with the CEO of Infosys. A company that for the record announced new investments in Canada, during the course of this trip. But you guys (journalists) didn't report on it because I was wearing a shirt and tie. Boring!"
He mocked the journalists who more often than not focused on his attire rather than on the important decisions he took during the visit.
Trudeau even recalled how he was welcomed to India by the minister of state for agriculture Gajendra Shekhawat and not Prime Minister Narendra Modi. Many believe that the snub by the Indian prime minister was a result of Trudeau-led government's support to the Canada-based pro-Khalistani outfits, as per TOI.
Trudeau's much-talked-about visit to India was under heavy media scrutiny for his choice of outfits, diplomatic fiascos and even images of his youngest son Hadrien Trudeau that went viral.
The iconic photo of the child 'planking', as the rest of the family was busy signing the guest book in Delhi's Gandhi Memorial, had left everyone in awe. However, Trudeau commented on the picture and said: "This was the point when he totally gave up on the trip."
The Canadian PM did not even shy away from the controversial picture that showed First Lady Sophie Grégoire Trudeau with convicted Khalistani terrorist, Jaspal Atwal, at a dinner event in Mumbai. He had, however, cropped Atwal from the picture and just admired his wife: "Media couldn't stop talking about it. Doesn't she look gorgeous?"
He finally concluded the presentation and said: "That was India, ladies, and gentlemen. The trip to end all trips."