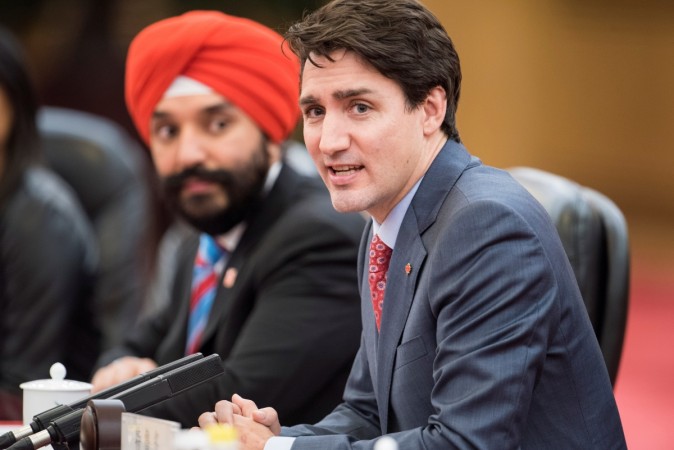 Canadian Prime Minister Justin Trudeau donned a white dhoti and a yellow silk shirt as he celebrated Pongal with Canadian Tamils in Scarborough on Wednesday, January 17.
The Liberal Party leader is known for celebrating many Indian festivals with Indian-Canadians in order to encourage a multicultural experience in Canada.
Trudeau wore a "veshti" — the South Indian equivalent of a dhoti — and celebrated the Tamil harvest festival by preparing Pongal food made of rice and lentils.
The Mayor of Toronto, John Tory, accompanied the prime minister as they interacted with Tamil Canadians during the Tamil heritage celebrations.
Trudeau uploaded a video where he said: "Thai Pongal is a time to give thanks for the many gifts of the harvest. It's a chance to come together with friends and family and celebrate peace, abundance, and happiness. Iniya Thai Pongal Nalvazhthukkal!"
According to Census 2016, there are reportedly 157,000 Tamils living in Canada, but the community believes the number exceeds 200,000. The prime minister had earlier celebrated Pongal in 2016 and also celebrated Diwali last year. However, his Diwali celebrations were trolled when he said "Diwali Mubarak" in one of his tweets.
Trudeau is known for celebrating different Indian cultures and faiths in order to celebrate togetherness in Canada.
Here are some of the Twitter reactions to his Pongal celebrations:
Thanks sir... we Tamils are touched! Tamil Nadu needs a leader like you

— Karthik (@itskarthik_85) January 17, 2018
While seeing these images... I get Goosebump.. ☺ ☺. Thanks to you.. For accepting our Culture.. And Traditional etc.. ☺ ☺. @JustinTrudeau

— சரண்யா செல்வராஜ் (@sarani_wpt) January 17, 2018