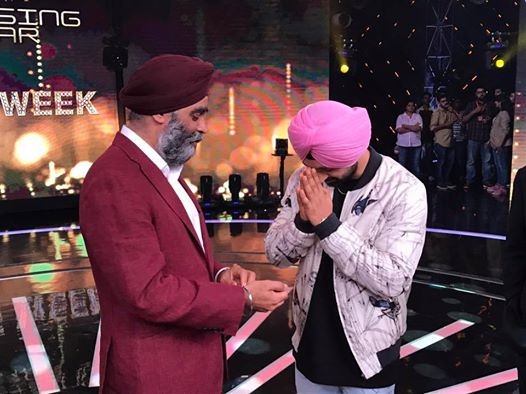 In a tear-jerking moment, Punjabi singer and Bollywood star Diljit Dosanjh had a once in a life-time experience on the sets of Rising Star Finale on Saturday night. He had a special guest on the show that not only moved the humbled star, but also left him speechless.
Also Read: Filmfare Awards 2017 (Punjabi) complete winners list
The special guest was Canada's Minister of National Defence Harjit Sajjan. The honourable minister not only flew down to India to attend the Colors reality show, he also presented Dosanjh with his personal National Defense Coin of Honor for excellence. Sajjan gifted Diljit the honour that he had received from the Government of Canada.
The actor-singer took to social media to share pictures of the coin and the pictures taken on the set with the minister. He was not only grateful to him for the honour but also shared a message that the special guest told him.
Writing on his Facebook wall, Dosanjh repeated Sajjan's words: "It's good to get rewards for your Hard work but what is more important is what you give back to society!!" He used these words to caption the picture of him folded hands bowing down in front of Sajjan.
The superstar has had one helluva weekend. Not only did he receive this honour, the first look of Super Singh, Punjabi industry's first superhero movie's poster released recently.
Produced by Ekta Kapoor's Balaji Motion Pictures, the Punjabi rock star will be seen in a never-before avatar.
Super Singh will see Dosanjh paired with Sonam Bajwa. This is not the first time that the two are coming together. Dosanjh and Bajwa were previously seen together in the National Award Winning Movie Punjab 1984 and last year's one of the biggest box office successful movies Sardaarji 2.
The movie is directed by Anurag Singh, who has been an important part of Dosanjh's career. The actor-director duo have worked on a number of hit-makers including Jatt and Juliet, Jatt and Juliet 2, Punjab 1984 and Disco Singh.
Super Singh is set to release on June 16.