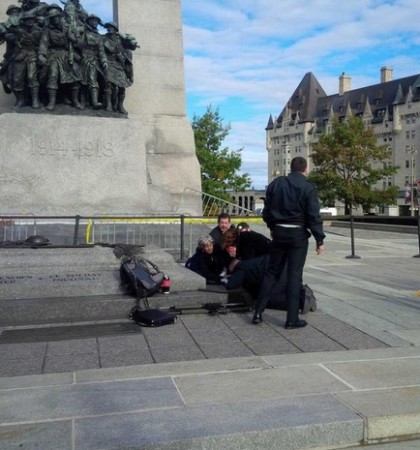 A Canadian soldier was killed and two security personnel were injured after a shooter armed with an assault rifle stormed the Parliament Hill in Ottawa on Wednesday.
The dead soldier shot at the War Memorial was reportedly an army reservist from Argyll and Sutherland Highlanders in Hamilton. Two security personnel were injured in the shooting inside the Parliament Hill.
Reports suggest that Prime Minister Stephen Joseph Harper and other Members of Parliament have been escorted out to safety. The Parliament is now reportedly on a complete lockdown, while the counter terrorism units are searching for the shooter.
Witnesses claim that the shooter was tall and was wearing a dark coat. Other reports claim that shots also were fired inside the Parliament. The Ottawa Citizen reported that the shooting occurred around 10am.
The shooting comes just two days after two soldiers were run down by a car near a recruiting centre near Montreal. One soldier was killed in that incident. The person reportedly was identified as Martin Couture Rouleau aka Ahmad.
The police said he was Lone Wolf - a Muslim convert radicalised by the Islamic State of Iraq and Syria to target 'infidels'. The attack on the Parliament Hill is being investigated. Earlier last month, the ISIS militants had asked its supporters to target infidels in the US, Australia and France.
Watch Live Feeds of Ottawa Parliament Shooting: Watch Live Coverage
Video of gun battle inside the Canadian Parliament uploaded by The Globe and Mail's Josh Wingrove - Watch Video
Live Updates (Latest to Older)
President Obama called up Canadian PM Harper to offer its assistance. FBI is also said to join the investigation.
Ottawa Police Service and Royal Canadian Mounted Police (RCMP) released a joint statement. Two shooting incidents have been confirmed - one at National War Memorial and another on Parliament Hill. A third at the Rideau Centre Mall, seems to have been a false alarm. The lockdown is still underway as Ottawa residents have been asked to stay away from the downtown area while the investigation continues.
US homeland security secretary Lisa Monaco has briefed President Obama on the Ottawa shooting.
Meanwhile, White House press secretary Josh Earnest told reporters that the US does not yet officially see the shooting as an act of terrorism. But, he said the White House would offer all assistance to the Canadian Government.
Jason Macdonald, communications director for Canadian Prime Minister Stephen Harper, released a statement on Facebook. He said the prime minister was safe and has been moved out of Parliament Hill.
Canadian Prime Minister gets briefed by the RCMP chief.
@pmharper got briefed on the shootings by Com. Paulson/ PM a été briefé au sujet de la fusillade par le Com. Paulson pic.twitter.com/aGxdx4bSoN

— Carl Vallée (@carlvallee) October 22, 2014
One of the suspected shooter is now confirmed to have been shot and killed inside the parliament by the police.


MPs and Hill staff owe their safety, even lives, to Sergeant at Arms Kevin Vickers who shot attacker just outside the MPs' caucus rooms.

— Craig Scott (@CraigScottNDP) October 22, 2014

RCMP to make an update on the shooting soon.
Stock Markets react to Ottawa shooting, shares decline sharply. "We're in an environment where the market is very skittish. The market is very nervous right now and is reacting to every headline that comes out," Allan Small, a senior investment adviser at HollisWealth, told Reuters.
Reports now claim that there could be three shooters involved in the Parliament Hill attack.
Google earth view showing the 3 locations of shootings in downtown Ottawa this morning -- all remain on lockdown pic.twitter.com/NsQ1zPwuxe

— Jason Morrell (@CNNJason) October 22, 2014
At least two shooters seem to be active as a latest shooting incident has been reported from a mall near the Parliament as well. In all, there have been three shootings: one at the war memorial where a Candian soldier was shot, inside the Prliament and now at the mall near Parliament Hill, known as Rideau Center. The entire downtown Ottawa is now on a lockdown.
The US embassy located mere four blocks from Parliament Hill also reportedly has been put on complete lockdown. All embassy staff have been taken to safety, while the guards are on alert.
#RIGHTNOW US Embassy is under lockdown - very close to scene of shootings #ottawa #ParliamentHill #Canada— Mark Day (@1310NewsDay) October 22, 2014
Reports suggest that there might be two shooters involved in the Parliament attack. Unconfirmed reports claim one shooter has been killed. A Reuters report stated that the Ottawa police were actively looking for one or more suspects.


Police source has told a Globe colleague of mine that a second shooter has been shot

— Josh Wingrove (@josh_wingrove) October 22, 2014
Gunman reportedly dead, confirmation awaited. Counter-terrorism units checking all rooms of the Parliament.
The shooter is now reportedly on the roof of the Parliament.
Police say the shooter is on roof of building at Metcalfe and Sparks 1 block from Parliament Hill #ottnews #cbcott pic.twitter.com/ZZiMUgj69H — Jamie Long (@cbcjlong) October 22, 2014
The media has been asked to stay away as TV Crew and reporters try to catch a glimpse of the shooter.
RT @OmarCBC: Police say shooter on roof of parliament and ask media to stay back. #ottnews — CBCOttawaMorning (@OttawaMorning) October 22, 2014
A body has been found inside the Parliament.
A body outside ground at library of parliament pic.twitter.com/gtxWamyWmQ — Josh Wingrove (@josh_wingrove) October 22, 2014
The total number of dead in the Canadian Parliament shooting now stands at two.
2 gunned down in Ottawa - 1 in front of war memorial, 1 in front of Library of Parliament (Centre Block Parliament Hill) Gunman still loose — Armine Yalnizyan (@ArmineYalnizyan) October 22, 2014
The counter terrorism units have rescued the Canadian Prime Minister. Other MPs have also been taken to safety.
.@pmharper is safe and has left Parliament Hill. — Jason MacDonald (@J_MacDonald_PC) October 22, 2014
Canada's Royal Canadian Mounted Police (RCMP) has issued a terror alert across Ottowa, asking all citizens to stay indoors till the threat is cleared.
RCMP advises people to stay away from Parliament Hill due to ongoing police incident. — RCMP (@rcmpgrcpolice) October 22, 2014
Witnesses reported gunfire inside the halls of Parliament, including a dozen shots outside the Parliament Hill library.
Shots fired during caucus meeting. at least 30 shots. MPs piled out. I'm safe with 2 colleagues but we're still at risk... — Tony Clement (@TonyclementCPC) October 22, 2014
Emergency response team outside the Parliament
RCMP emergency response team en route. Another shot. pic.twitter.com/wyanUE9AxX — Tonda MacCharles (@TondaMacC) October 22, 2014
Police confirm shooting. Shots heard inside the Parliament. No reports on safety of MPs.
Ottawa update: - Shooting at Ottawa's War memorial, police confirm - Reports: Shots heard inside nearby parliament building — BuzzFeed News (@BuzzFeedNews) October 22, 2014
The shooter reportedly fired three shots. Ottawa citizens and paramedics were seen assisting the Canadian soldiers.
BREAKING NEWS: At least 3 shots fired at Ottawa War Memorial. One soldier confirmed shot - http://t.co/wiPaKVPSDb pic.twitter.com/vwxeqj8xe9 — PzFeed Top News (@PzFeed) October 22, 2014
Reports suggest that there might be two shooters involved in the Parliament attack. Unconfirmed reports claim one shooter has been killed. A Reuters report stated that Ottawa police were actively looking for one or more suspects.
Police source has told a Globe colleague of mine that a second shooter has been shot — Josh Wingrove (@josh_wingrove) October 22, 2014