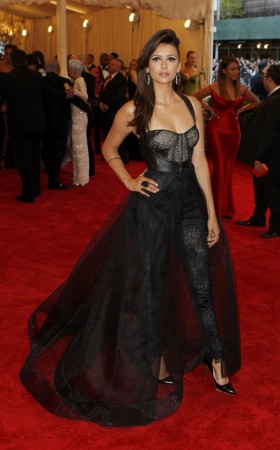 It's too soon to say if "The Vampire Diaries" will be picked up for a seventh season, but the possibility of the show moving ahead without one of its lead characters has been plaguing fans for a while now.
As reported earlier, only two of the three leads -- Ian Somerhalder, Nina Dobrev and Paul Wesley -- have signed up for the seventh season, and this leaves fans wondering if a lead character will be killed off at the end of season 6.
The future of the show will be decided only in early 2015, and the possibility of losing one of the key characters is something "The Vampire Diaries" executive producer Julie Plec is looking forward to.
"We have a lot of people already set to return, so the show has plenty of opportunity to tell good stories," Plec told E!News. "And those that don't survive — just the thought of it actually hurts me a little and hurts them; they'll be sitting at home praying, 'Don't let that be me! Don't let that be me!' — we'll see. It's an exciting challenge. Sad, nostalgic, scary, and yet super stimulating."
While it's still unknown who all have been signed up for the upcoming season, there are talks that Nina Dobrev, who plays Elena Gilbert in the Vampire series, might not return. Reports of Dobrev's uncomfortable relationship with fellow actor Somerhalder have been reported extensively, with multiple sources claiming that Dobrev is close to quitting the show, and seeking her future in movies.
"Nina has been going to different premieres and been hanging out in Hollywood meetings because she wants to expand her career and move on from Vampire Diaries," a source told Hollywoodlife, adding that Somerhalder's relationship with Nikki Reed has accelerated the process.
Somerhalder, who was previously dating Dobrev, is said to be flaunting his new relationship on the sets of "The Vampire Diaries," causing tension between the former couple.
"She wants to make a splash in her career and do more movies. As for Nikki and Ian's relationship being the main reason, that would be the only reason to speed things up, but not the main thing, she just wants to grow as an actress."