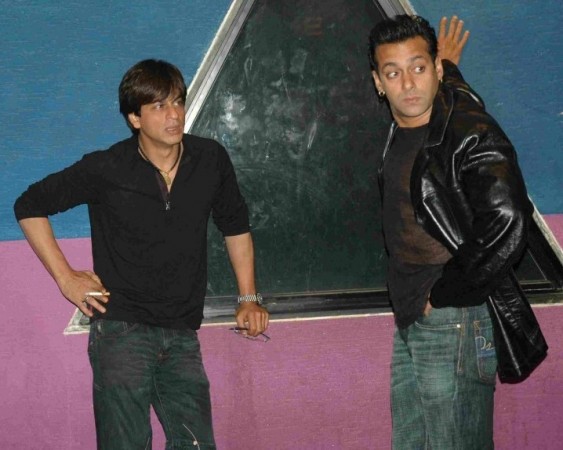 Superstars Shah Rukh Khan and Salman Khan's ceaseless rivalry makes us wonder if the actors can ever be on amicable terms.
Just when it was assumed that the two biggies of the industry have finally called it peace, as they hugged each other and shared pleasantries at the recent Star Guild Awards, we have been proven wrong yet again.
The "Chennai Express" actor was present at a recent brand-endorsing event where he took a witty dig at his contemporary.
Aping the famous 'rapid fire' questions on Karan Johar's chat show "Koffee With Karan", Shah Rukh jovially questioned filmmaker Kunal Kohli about the most recent movie he had watched. When Kohli replied "Jai Ho", Shah Rukh appeared left stumped for a brief moment. However, the star, best known for his charismatic and witty demeanour, quickly let out: "There is no accounting for taste."
While some may point out that the actor's dig was a playful one, his remarks may not go down well with Salman and his fans.
This brings us to our previous question - whether the industry stalwarts would ever be friends again.
Both actors, who had earlier worked together in the blockbuster "Karan Arjun" (1995) and shared a friendly equation, fell out over time, with respect to personal issues.
It so happened that Salman had created a ruckus in the set of SRK's film "Chalte Chalte", which had initially featured Aishwarya Rai. And the actress had to be replaced with Rani Mukherjee as things soured on the SRK-Salman front. Much later, Salman's ex-girlfriend Katrina Kaif tried to play mediator between the warring Khans and invited both to her birthday party but all hell broke loose, creating further crisis.
But the tense situation between SRK and Salman saw a break, when the two stars hugged each other at an Iftar party, raising a few eyebrows. The "Dabanng" actor was recorded, extending a warm hug to Shah Rukh.
After that, reports of patch up between the two stars became the most trending news.
But Salman's renowned scriptwriter father Salim Khan appeared apprehensive on a so-called-reconciliation of the duo. The veteran had remarked that any longstanding friendship between the two superstars is not possible, since ego clashes are bound to recur due to their influential personalities.
He had said that both actors at best can be cordial towards each other but would never be good friends again.
And with SRK's latest dig at Salman, we must say Salim's words ring true.