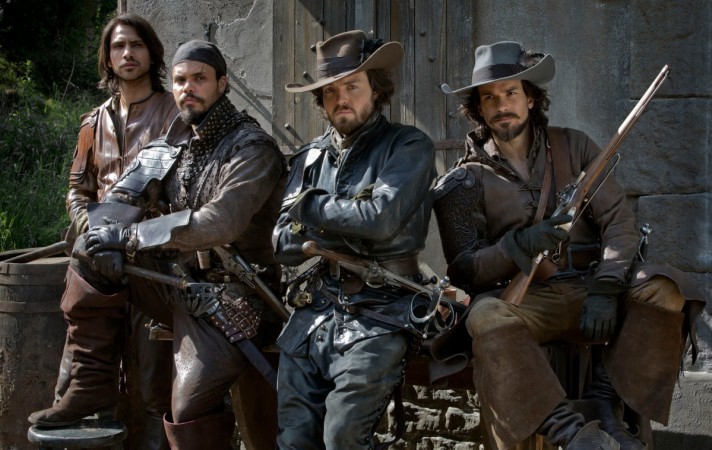 BBC will air season 2 episode 9 of the historical action-drama "The Musketeers" after a week's break on 20 March, Friday. Queen Anne (Alexandra Dowling) is the "The Accused" and the man obsessively and madly in love with her, Comte de Rochefort (Marc Warren), now knows of her affair with Aramis (Santiago Cabrera).
Having threatened to expose their relationship in episode 8, Rochefort will follow through with his threat and it is up to the Musketeers to save her honour and protect her.
Towards the end of season 2 episode 9 "The Prodigal Father", Rochefort had vocalised his obsessive love for the Queen and said that if she were to say she loves him, Rochefort would keep the affair between her and Aramis safe. The Queen refuses to do so and Rochefort tries to force himself upon her. The queen stabs him in the eye with a hair pin, as Constance (Tamla Kari) watches shocked.
In the preview for "The Accused", Constance is seen telling the Musketeers that Rochefort attacked the queen and that in the struggle that ensued she wounded him. Once inside the Queen's chambers, Aramis asks the clearly destitute Queen Anne, "He dared to lay hands on you?"
The Queen replies that she had trusted and that she thought Rochefort was her friend.
When D'Artagnan (Luke Pasqualino) asks her if the King has been informed of the events, she asks the Musketeers to escort her. As they leave the room, Constance stops Aranis and tells him that Rochefort knows everything about him and the Queen.
According to the synopsis for "The Accused", the Musketeers put their lives on the line to save the Queen and take her a safe distance away from the Palace, as they look for evidence to prove that Rochefort is a Spanish spy. However, Rochefort has already deceived his way to the top, and now holds even the fate of the King (Ryan Gage) in his hands.