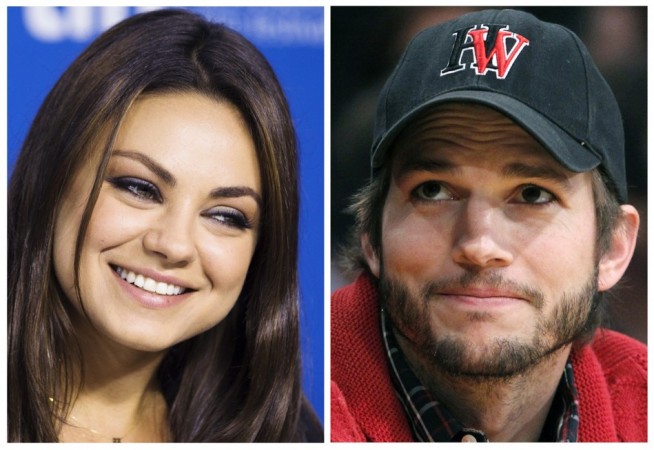 Ashton Kutcher has been flying high since the birth of his daughter, Wyatt Isabelle, on 1 October. But a new report claiming that the actor cheated on his fiancee Mila Kunis can cast a pall over his happy domesticity, if it turns out to be true.
A new Star report claims that Kutcher tried to hook up with makeup artist Linn Massinger back in 2012, shortly after he started dating Kunis. Kutcher was filming "Jobs," the movie based on Steve Jobs, at the time.
A source told the magazine that he spotted Massinger, who was with a friend, at "The Writer's Room" in Los Angeles, and suggested they go back to his house.
"Ashton seemed really flirty, and they spent time making small talk. After about 20 minutes he suggested they all go back to his house to continue drinking," the source revealed, according to HollywoodLife. "Linn and her pal were already pretty tipsy, and they said OK."
"Everyone sat around drinking at the bar in Ashton's living room, and then he made his move. He came up behind Linn and said something like 'You didn't think I'd come after you?'"
The two continued to make out, but did not have sex, the source added.
It remains to be seen if there is any truth to the story, but this wouldn't be the first time that Kutcher has been accused of being unfaithful. The sole reason for the 36-year-old actor's separation from former wife Demi Moore was his infidelity.
Kutcher reportedly cheated on Moore with 23-year-old Texas-born beauty Sara Leal in September 2011, on the day of his sixth wedding anniversary to Moore. And in a following interview, Leal warned Kunis to be careful of Kutcher's cheating ways.
"Once a cheater, always a cheater," Leal told The Sun. "If I were Mila I'd be careful, he doesn't have the best track record. But she's obviously willing to take that risk.
"If I was dating a guy that had cheated on his wife I would be a little suspicious," she added. "It would probably make me extra crazy and extra insecure. I'd definitely keep an eye out.