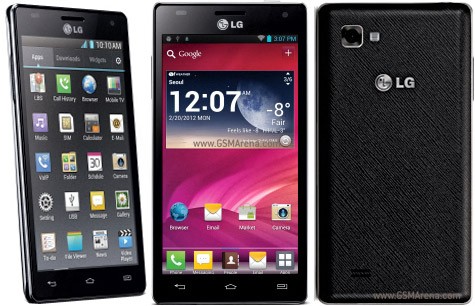 Smartphones with 4.5-inch above display screen is flooding the market. Most users find that any screen size more than 4.3-inch is too big and uncomfortable to hold in their hands. But Samsung Galaxy has not faced that issue due to its light weight and thinness. Even the new LG Optimus seems to be playing along similar lines.
LG Optimus 4X HD's quad-core processor makes it incredibly zippy, it runs on Android 4.0, and it has NFC capabilities and a stunning HD-IPS LCD display, making it one of the smartphones that requires serious attention.
There is a 4.7-inch 720 x 1280 pixels True HD-IPS LCD capacitive touchscreen found in LG Optimus 4X HD P880 compared to Galaxy S3′s 4.8-inch 720 x 1280 pixels Super AMOLED capacitive touchscreen.
LG's handset comes with 16 GB internal storage and 1 GB RAM commonly found in major smartphones found in the market today. However, Galaxy S3 has 16/32/64 GB internal storage and 1 GB RAM. The US version of Galaxy S3 has 2 GB RAM support. Also Galaxy S3 supports microSD up to 64 GB whereas LG Optimus 4X HD has support up to 32 GB.
In terms of dimension, LG's smartphone is shorter and narrower compared to Galaxy S3 but 0.2 mm thinner than Samsung's device. Both the smartphones weigh 133g.
Samsung Galaxy S3 has a 8-megapixel camera with 1080p HD video recording capability whereas LG's phone has similar megapixel camera but can record 1080p without HD support.
LG Optimus 4X HD scores above Samsung's handset when it comes to processor as it features faster Nvidia Tegra 3 quad-core 1.5 GHz Cortex-A9 CPU compared to Galaxy S3′s Exynos 4212 quad-core 1.4 GHz Cortex-A9 processor. Both the phones sport the latest Android operating system.
The battery found in Optimus 4X HD is Li-Ion 2140 mAh, which is marginally better than Galaxy S3′s Li-Ion 2100 mAh battery.
In comparison of both, LG's new handset will surely give Samsung Galaxy S3 a run for its money. The LG Optimus 4X HD stands on its own, firing on all cylinders with lightning-quick CPU, newest Android version, great touch screen, and NFC chip.