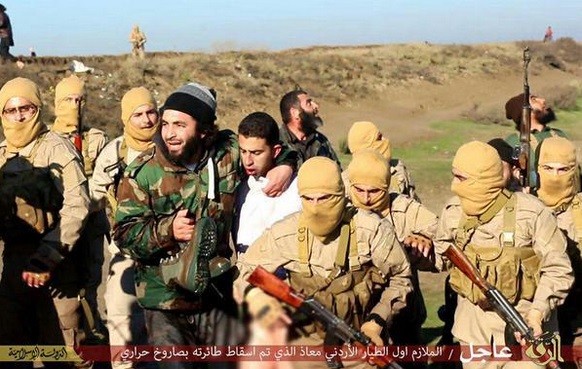 Jordan has warned Islamic State militants of "grave consequences" if they harmed the Jordanian pilot whom they have held captive after claiming to have shot down a coalition warplane on Wednesday.
The Jordanian parliament issued the warning even as the government promised "all efforts" to help release the 27-year-old pilot, who is feared to face a gruesome end like several other captives of the Islamic State.
Militants of the powerful terror group paraded the young pilot, identified as First Lt. Muath al-Kasaesbeh, in his underwear after the capture; his face was seen bloodied in the photos that surfaced online.
Jordan's hard words, however, are not likely to yield results, given that the Islamic State has not heeded to warnings from other bigger nations over hostages and has beheaded several American and British hostages in the last few months.
Even Kasaesbeh's family's pleas to the ruthless militants to spare their son, with the pilot's father even asking the ISIS to treat him as a 'guest', may not change the fate of the captive, as the group has blatantly ignored several emotional pleas by families of earlier hostages it beheaded.
The only option in the hands of Jordan to rescue the pilot is a prisoner swap, Jordanian journalist and political analyst Raed Omari wrote in Al Arabiya, stating that there is talk of this option to save Kasaesbeh.
Jordanian political activists have reportedly told the London-based daily Al-Quds al-Arabi that a prisoner exchange is possible if the government releases militants of the Al Qaeda, according to The Jerusalem Post. The Al Qaeda is the parent group of the ISIS.
The Islamic State has released several hostages in prisoner swaps in the past, including 49 Turkish officials in June.
Some of the prisoners in Jordan who can potentially be released in exchange for the pilot include Sajida al-Rishwai, an Iraqi woman who was captured in 2005 after a failed bid at bombing a hotel in Amman. She is said to be affiliated with the Al Qaeda.
Another jihadist, Ziad al-Karbouli who was accused of plotting attacks on Jordanian trucks in Iraq, could also be a name that the ISIS may list for the swap.
Omari also hinted that there were talks of a military operation by Jordan to free Kasaesbeh.
However, this alternative may prove dangerous given that similar rescue attempts, even by the well-equipped US Navy Seals have failed to suceed.