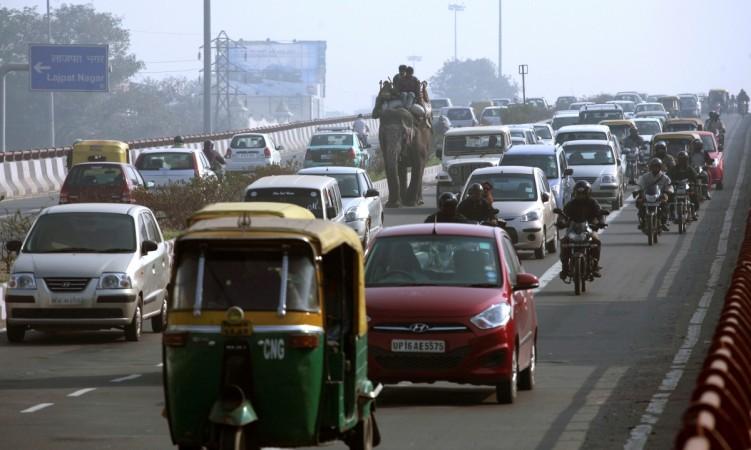 With the Formula 1 2017 season scheduled for a start this weekend with the Australian Grand Prix, we couldn't but help notice one of the most interesting questions doing the rounds on Quora -- can the excellent F1 drivers win over the roads and traffic in India with their finesse?
READ: How muay thai has helped Lewis Hamilton prepare for Australian GP 2017.
Quora is a wonderful question-and-answer website, where intellectuals and general people from all across the world can answer your question instantly, if he/she comes across it on the website.
So, to the aforementioned question, the answers and opinions have come in thick and fast from users all over the internet and we have shortlisted three answers which we feel are really interesting and worth a share!
When the F1 circus descended for the first time in 2011 to drive in the Buddh International Circuit, Sebastian Vettel summed up the traffic in just one phrase. "It's organised chaos out here!"

Allowing drivers to drive on Indian roads would be equivalent to the team principals having second thoughts about them going for WRC, LeMans etc. That's the amount of thought that would go in simply because the only experience the drivers have in driving so close to each other is during race starts, and that is just around 20 times per year. Not whole day long. How can one expect the drivers to ace it when we ourselves took years of intense practice and street skills to ace this style of driving! And mind you, we are also used to navigate cows, dogs, cycles etc. with an ease that's comparable to Kimi having an ice-cream before a race start!

To sum it up, even NASCAR drivers would not be adept in India's traffic, let alone F1 drivers.
- Atul Bhushan
1. Knowledge (of local driving regulations, language of signboards, route, vehicle dynamics).

Typical F1 drivers are expected to have the same average IQ as a typical Indian road driver. Hence, given the opportunity and reasonable time to gain sufficient knowledge, F1 drivers are expected to fare as good/ bad.

2. Defensive Driving Skills.

This is a survival skill to compensate for the mistakes of "the other driver." All F1 drivers are fully trained, tested and certified to highest levels of defensive driving skills. Typical Indian road drivers are trained in offensive driving!

3. Reaction Speed.

This is the most critical trait required for driving on typical Indian roads. With unruly drivers and hazardous road conditions such as pot-holes, any driver who has superior hand and leg co-ordination with visual inputs wins the medal.

Our Indians roads are such good roads that they mostly help eliminate our talents and kill them...

I'm not talking about the race tracks but our own roads and you know how many wannabe racers were killed to which I'm not going to talk about.
- MS Prabhakar
When F1 came to India in 2011, the drivers were taken to a trip to the Taj Mahal. In the following day's press conference,
Reporter : "So how did you find the Taj?"
Lewis Hamilton : "Better than that was the bus ride. No rules, so much traffic and yet no accidents. I mean, how did they manage that?!"
- Shirish N Potu
Recently, we came across a tragic incident on the Indian roads where a former national racing champion Ashwin Sundar lost his life along with his wife Nivedhitha as their luxury car BMW hit a tree in and caught fire in Chennai.
It was reportedly a result of rash driving, according to prima facie evidence. The full story here.
To sum up as an answer to the unanswerable question we started with, here is something that former Indian F1 star Narain Karthikeyan had mentioned about driving on Indian roads: "I have more than a couple of high end cars in my garage. But I'm going to cut them down as I'm not accustomed to Indian roads and we all very well know the traffic sense we have!"