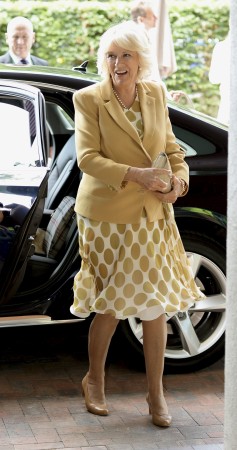 Camilla Parker Bowles is likely to be dogged by a new controversy with report claiming that she was caught in drug scandal. The Globe magazine, which is known for coming out with shocking news stories, has Bowles on the cover of its 27 October issue with claim that her "best friend" has revealed all the secrets.
The statement accompanying Bowles picture reads "caught in a drug scandal," according to a report by Celebdirtylaundry. However, there is no confirmation on the allegation yet.
Meanwhile, Bowles is said to be considered to be the next queen after Queen Elizabeth II steps down. The report of the 67-year-old becoming the queen has be revealed in the book written by former royal spokesperson Dick Arbiter. Prince Charles and Bowles could become the new king and Queen of England after Queen Elizabeth's reign, according to Arbiter.
"They'll have been married 23 years if he becomes king at 79. It will have been more than 30 years since Diana died. People mellow. She's pretty well received up and down the country these days. People say to me, 'What do William and Harry think? Their view is they like her and their attitude is if their father is happy, they're happy," Arbiter wrote about Bowles in his book "On Duty With the Queen: My Time As a Buckingham Palace Press Secretary," according to Epoch Times.
Arbiter's prediction may come true, as the recent reports have suggested that Queen Elizabeth is allegedly not in good health. Globe magazine suggested in its 20 October edition that the 88-year-old Monarch is purportedly showing signs of forgetfulness, as per CelebdirtyLaundry. However, there is no confirmation on the report.
Bowles is the second wife of Prince Charles. She met Prince Charles in 1972 and was romantically involved with him for 25 years before tying the knot in 2005. Prince Charles was previously married to Princess Diana, who died in a tragic car accident.