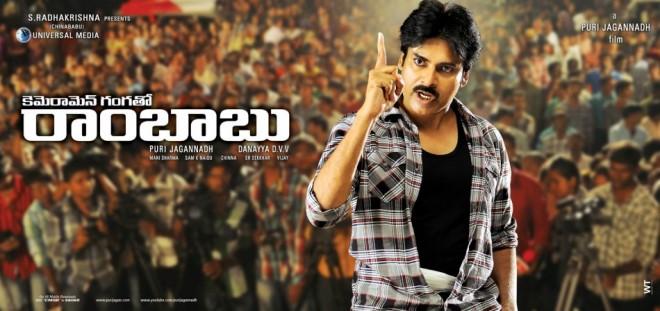 When the title of Telugu film "Cameraman Ganga Tho Rambabu," is translated into English, it's 'Rambabu with cameraperson Ganga'. And that's the storyline: The protagonist and the leading lady work in the media industry and they expose the irregularities in the state.
Probably, there is no scale to measure the capacity and arrogance of Puri Jagannadh's heroes when it comes to taking down the bad guys, and Rambabu is no exception to it. He's a mechanic by profession, whose fist hungers for justice and is stocked with social responsibility.
Rambabu, played by Pawan Kalyan, is a news-buff. Unlike others he does not just read newspapers but reacts to it with invincible muscle power. Puri has attempted to question the people on why they read newspapers or watch news programmes? Is it just another habit like drinking coffee? The film has also brought the ethics of media, its market driven journalism and responsibilities in shaping an ideal society, to question.
Throughout the film, Puri suggests to take some time out of one's busy life to perform basic social responsibilities. Rambabu is Puri's ideal citizen, who raises serious questions against social evils and fights them with unflinching fortitude.
Cameraman Ganga, played by Tamanna, discovers a road-side kid, Rambabau, who is more interested in asking unanswerable questions, and she motivates him to become a journalist.
Equipped with a mic and camera, Rambabau and Ganga become a nightmare for all tainted personalities in the state. Main antagonists, Rana Prathap Naidu and his politician farther Jawahar Naidu played by Prakash Raj and Kota Srinivasa Rao, respectively, are especially hit the hardest.
The Naidu camp uses cast, creed, class and language differences and often whip up enmity among people for their benefit. Rambabu, who claims himself to be mentally-ill, begins to torture the father and son duo, while keeping them from looting people.
"Cameraman Ganga Tho Rambabu" has dealt with sensitive issues presently prevailing in the country like language movement led by ethnocentric political outfits, politicians misusing students' power, political murders and media sensationalizing worthless issues.
The characters played by Prakash and Srinivasa mirror the reality of tainted politics in the country. Tamanna's tomboy appearance and quirky actions to guard her love interest from intruders bring in some lighter moments in the film.
Brahmanandam and Ali have missed to tickle the ribs of audiences. Nassar, Gabriela Bertante and Dharmavarapu Subramanyam just come as fillers.
Rambabu's blazing action sequences and high rate of speech are engaging. However, Puri appears to have lost grip over the script by the end. While one expects the movie to come up with a revolutionary idea, it reaches the climax on a superlative note which to some extent is abortive.
Director: Puri Jagannadh
Cast: Pawan Kalian, Tamanna