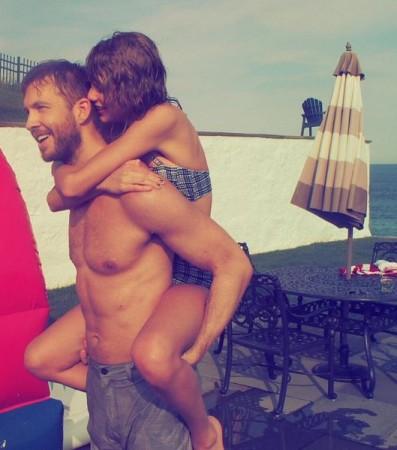 The world was shocked when Kanye West rapped his song "Famous" and claimed he made "Bad Blood" singer Taylor Swift famous. West was obviously referring to the infamous 2009 MTV VMAs incident when he interrupted the ceremony to say Beyoncé and not Swift deserved to win the "Best Female Video" award.
Since then, both artists have been at the centre of media's attention. While Swift, 26, hasn't responded to the song, a Hollywood Life article claims she's comforted by those closest to her. The article also said Swift's boyfriend Calvin Harris, 32, gifted her red roses. Although Rose Day is long gone, the gesture put a smile on Swift's face.
A source close to the "Out of the Woods" singer told the website: "Taylor woke up today to over 20 dozen roses being delivered to her." The source added Swift is surrounded by so many roses she can't count anymore, and this is perhaps just the beginning of a long romantic Valentine's Day weekend.
West unveiled his new album "The Life of Pablo" during the Yeezy Season 3 fashion show at Madison Square Garden on Thursday, Feb. 11, 2016. Kim Kardashian's husband performed the song "Famous", which included the lines: "I feel like me and Taylor might still have sex / Why? I made that b**ch famous."
Swift's fans and friends expressed their shock on social media. The singer's brother, Austin Swift, posted a video of him throwing away Yeezy sneakers designed by West.
Supermodel Gigi Hadid, a member of Swift's squad, tweeted: "My attendance somewhere does not mean I agree with everything being said in the music playing there. My friends know of my loyalty."
In his defence, West tweeted he received Swift's blessings and went ahead with the song. He also stated he never dissed Swift.
Although it isn't yet clear if Harris and Swift will make a revenge song together, another Hollywood Life article claimed she was motivated to create music after the recent diss. Shippers of the power couple hope Harris joins her in this venture.