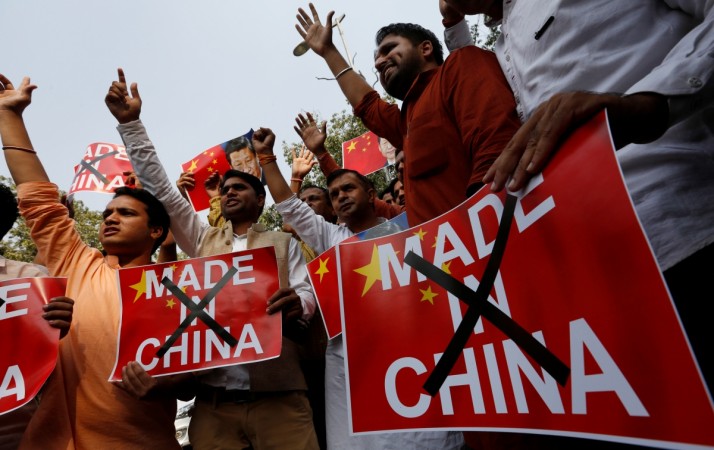 Tensions between India and China at the Doklam region may have been resolved at the end of August, but there seem to be other issues between the two countries in terms of trade. During the standoff, many in India had called for a boycott of Chinese goods, and it now looks like this call is set to get louder.
In tune, the Swadeshi Jagran Manch, an economic policy group, has been urging the citizens of India to boycott Chinese goods and instead buy and use Indian products. For this, it got together over 1,00,000 people for a rally in New Delhi on October 29 and protested against the Chinese goods that are widely available in the Indian market.
"This is the biggest-ever gathering to fight the dominance of Chinese goods," Arun Ojha, national convener of Swadeshi Jagran Manch, told Bloomberg. "Our youth are losing jobs and we are becoming traders of Chinese products."
Speaking of the initiative, the group said that this is a "second war of economic independence" that has even managed to garner the support of trade and labour associations, as well as, farmers.
The wide availability of Chinese goods, which are much more affordable than Indian goods and hence find more customers, also doesn't bode well for the Modi-government's "Make-in-India" initiative. Additionally, it has also been having an adverse effect on trade figures.
"This flood of Chinese imports fits in very uncomfortably with the priority of the Modi government to expand India's manufacturing base," Harsh Pant, professor of international relations at King's College in London, told the website."This trade deficit is now becoming a major headache. Though this is not unique to India-China economic ties, this is a major concern for Indian policy makers now that economic restructuring is a priority for New Delhi."
Speaking about India's manufacturing sector, Louis Kuijs, head of Asia economics at Oxford Economics in Hong Kong, explained that the worsening trade figures shed light on how the sector is underdeveloped and needs more attention.
Meanwhile, Swadeshi Jagran Manch is not the only group calling for this boycott. In August, RSS too had called for a boycott of Chinese goods amid the Doklam standoff and many Chinese firms feared that it would have an impact on their India business.
"Companies like OPPO and Vivo that directly face consumers might be affected a little," a businessman had at the time told the Global Times. Bangalore Chinese Chamber of Commerce secretary general Hu Tu had also said that many businessmen were wary of the boycott and were keeping an eye on the situation.
However, China believes that it doesn't make sense for India to boycott Chinese goods and the countries are more likely to benefit if they work together. The boycott "doesn't make any economic sense -- it's an irrational move," Wang Huiyao, director of the Beijing-based think tank Center for China and Globalization and an adviser to China's cabinet, told Bloomberg. "China's products and China's experience can really benefit India."