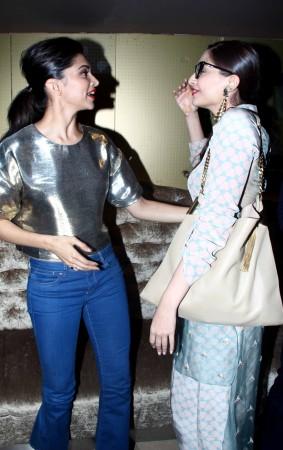 Bollywood celebrities often try to be funny while giving comments and quotes, but they often leave one bewildered.
Likewise, B-Town's fashionista Sonam Kapoor is known for her big mouth. The "Dolly Ki Doli" actress never misses a chance to shoot her mouth off.
Here are a few of Kapoor's quotes that shocked one and all.
"I would like to give Katrina a bouquet of flowers. I don't know how she does that. You need a certain kind of commitment and a certain kind of shamelessness to do certain things. You get that maybe with stardom or with confidence in your talent or with who you are as a person. I need to develop that before I do films like that," Sonam said.
Last year, when all the B-Town celebs were supporting Deepika Padukone for her stand against a leading newspaper for commenting on her cleavage, Sonam's reaction was a bit different. When she was asked about it during a promotional event, she first said, "I never said she is a friend of mine, she is a colleague." Then she went on to say, "Woman stop objectifying themselves, people will objectifying (sic) them." According to her, people have to respect themselves first for people to respect them.
Sonam also gave her expert comments on Padukone's fashion sense during her visit to "Koffee With Karan", in which she was also accompanied by her father Anil Kapoor. The Bollywood fashionista compared Deepika with Katrina Kaif's outfits. She commented, "Even if she (Katrina) wears a jeans and t-shirt and has her hair in ponytail... I'd rather have that than someone who is like 'I want to be on the cover of Vogue every three months'."
Kapoor stretched things a bit too far by calling Aishwarya Rai Bachchan "aunty". It is said that Kapoor was excited when she was chosen as the brand ambassador for one of the products of L'Oreal, and was looking forward to walking on the red carpet at Cannes with the Bachchan Bahu. But her dreams were shattered when the Bollywood queen refused to walk with her.
It's not quite clear whether Sonam was talking about herself or another actor when she said, "If you're not good looking, you're considered a good actor, you know what I mean?" She made this statement on "Koffee With Karan."
Again in one of the episodes of "Koffee With Karan", the diva took a dig at Ranbir Kapoor saying, "Ranbir is not sexy unless he strips." "Ranbir needs a stylist." "Ranbir is a great friend, but not good boyfriend material. I wonder how Deepika held on to him for so long!" She once also said that Ranbir is a mamma's boy whose toenails are still being cut by his mother.
When Karan Johar asked her about her very public war of words with writer Shobha De in 'Koffee With Karan Season 3', Sonam said, "Who the hell is she? She writes bad books!"
The fashionista expressed her hatred on her Twitter handle as well as for the writer. She wrote for Shobha De, "For a 60-something porn writer, I am sure she (Shobha) knows what she's talking about." Also, "Guys pls don't take Shobha De seriously. She's a fossil who's getting no action and going through menopause."
The Kapoor lady also created a buzz by flashing her middle finger in the movie "Players" and then again at a press meet for the film. In an interview with The Indian Express, the actress said, "I don't believe in censorship so whether they like it or not, I really don't care about it. I just want people to come and see my film. Showing a middle finger is a part of today's youth."
The self-proclaimed B-Town's fashion icon never misses out on an opportunity to praise herself and comment on others' fashion sense. Again on "Koffee With Karan", she said, "Being considered as an icon in my 20s, when people in their 40s or after they die are considered icons I think it is amazing!" In one of her quotes which appeared in Stardust magazine she had said, "I burst on to the fashion scene and ruined everyone's life. I'm sure some actresses curse me for it." Sonam in yet another controversial statement when she was interviewed for Vogue said, "Indian men don't understand fashion unless they are gay."