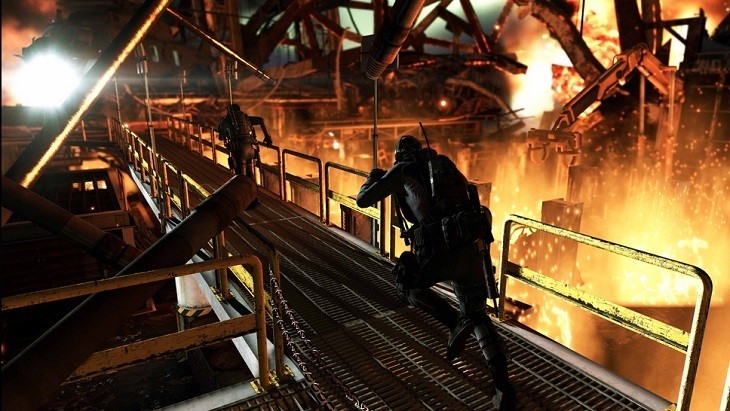 Activision has reportedly leaked the names of its map pack downloadable content (DLC) for its FPS video game, Call of Duty: Ghosts.
According to Ryan, a Twitter user, Activision sent him an email giving information on the Season Pass for Ghosts. Perhaps on error, they also leaked out an image that carries the names of the four map packs and the names of the DLCs.
Onslaught, Devastation, Invasion and Nemesis were the names that were revealed in the image that was sent to Ryan. The first letter of all four names when combined spell out as ODIN, which was the satellite that was orbiting earth in the single player mode, GamingBolt reported.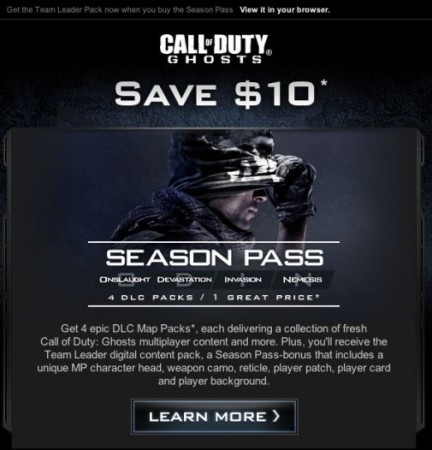 Ghosts Clan Wars Starts from Monday
The Clans Wars mode will start operating from 26 November, allowing players to create online clans and participate in matches. Players who manage to win will capture 'Nodes' on a virtual map. The first Clan War will last a week and the subsequent ones are planned for two-week periods, CVG reported.
Beachhead Studios are responsible for the design of the Clan Wars. They are metagames where players can unlock XP multipliers and earn new items for soldiers.
"One Clan War node might be tied to your success in Hunted; another might be linked to Hardcore Kill Confirmed. As you and your Clan members play multiplayer matches in those modes, you'll be racking up points that will let you take control of the matching nodes," One of Swords reported.
"Controlling those nodes pays off in in-game bonuses and, if you're really good, unlockable items for your soldiers. Since Clan Wars is layered on top of what gamers are already playing, it's something that casual, social Call of Duty gamers as well as more dedicated, competitive players can all enjoy."
The Clan wars will have a matchmaking system where players will be matched with others based on size and skill. Players can play the game regardless of the consoles they are playing the original game on. This feature is played through the Call of Duty app which is available for Android, iOS and Windows Phones.
Activision Claims Ghost is the Best-selling PlayStation 4 Game
Activision has claimed that Call of Duty: Ghosts has topped PlayStation 4 in retail sales in North America. It has also claimed that Ghosts is the most pre-ordered Xbox One game at retails in North America.
"Call of Duty: Ghosts is the No. 1 best-selling game on PlayStation 4 in North America at Best Buy, GameStop, Target and Walmart," claimed Eric Hirshberg, CEO of Activision, CVG reported.
The company also added that Ghost is the "no. 1 pre-ordered Xbox One title in North America," taking into account the pre-orders in Best Buy, GameStop, Target and Walmart.
Xbox One version of Ghosts will be released on 22 November along with the console launch.