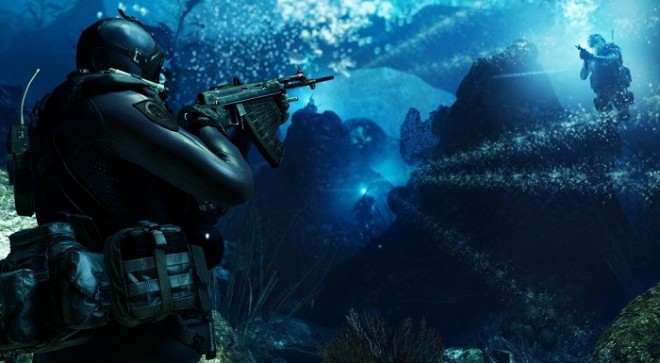 Call of Duty: Ghosts may get a new mode that focuses on aliens, with its developer Infinity Ward seen teasing a short video of the first-person shooter game. The mode, titled Extinction, has humans battling against aliens.
Seventeen screenshots were posted by smtkz, an Imgur user. This mode is likely to be similar to the zombie mode where players had to fight scores of zombies for a long duration. The screenshot has revealed details of various weapons and classes. The Imgur user has poster a series of pictures that show a dead alien, objectives and challenges, skill points and scoreboard.
One of the images challenges the player to "kill 15 aliens using pistols before the hive is destroyed" and another warns against any damage until the destruction of the hive.
The studio also posted a teaser video on Instagram showing a smoky image of its skull shifting into an alien.
Multiplayer Limitations on Current-Gen Consoles
Ghosts may support only up to 12 players for a six versus six matches, which is fewer than what was expected, Examiner reported.
Modern Warfare from the same studio supported 18 players online when compared to 12 for Ghosts. However, there is no clarity on the next-generation consoles like PlayStation 4 and Xbox One, but it is more likely that it will support 18 players.
CharlieIntel revealed that the game will require a 3GB install to the hard drive or other storage device for the Xbox 360 version.
Call Of Duty: Ghosts to Run at 720p On Xbox One?
Some reports suggest that the Xbox One version of Ghosts might run at 720p at 60 frames per second, with an embargo in place for journalists by Microsoft who were part of the recent media tour and were able to get a hands-on of both consoles, Gamepur reported.
Jeremy Conrad, a former IGN journalist, revealed that FIFA 14, Forza 4 and NBA2K runs at 1080p on Xbox One, whereas CoD: Ghosts and Battlefield 4 runs at 720p, in a Twitter message.
The embargo in place does not allow journalists to reveal the final resolution of Ghosts on Xbox One. It was also revealed in a tweet that the PlayStation 4 version will run at 1080p.
Call of Duty: Strike Team Hits Google Play
The phone and tablet version of Call of Duty: Strike Team which was recently released for iOS was made available for Android devices as well.
The version will feature both first and third person action and is inclusive of tactical sequences. It will be priced $6.99.
Release Date
Call of Duty: Ghosts is confirmed for release on 5 November for PC, Wii U, PlayStation 3 and Xbox 360. The PlayStation 4 version will release on 15 November and Xbox One on 22 November.