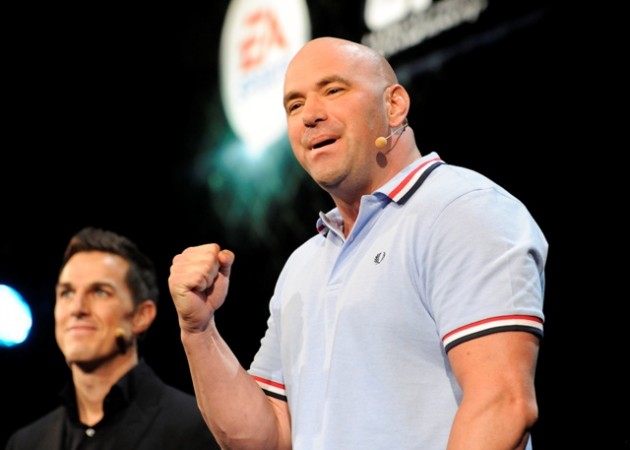 Combat sports fans around the world are speculating at the moment about whether the blockbuster showdown between UFC star Conor McGregor and pro-boxing legend Floyd Mayweather Jr will finally see the light of the day. Both fighters have agreed to the bout, and the biggest question now is where it will take place — in the boxing ring or the UFC octagon?
According to UFC President Dana White, if the fight indeed takes place, it will happen inside the octagon and it will have "100 per cent" MMA rules.
Mayweather had earlier said he was the one responsible for starting the rumours about his showdown with McGregor. The Irish MMA fighter, on his part, posted a photoshopped image of a staredown between Mayweather and himself.
Now, with the graphic having created a lot of hysteria, White has been asked if indeed the fight was happening. "We haven't talked about it," White was quoted as saying by Fox Sports. "Conor McGregor's under contract with the UFC."
The British businessman also said if Mayweather, who has retired with a 49-0 record in the pro-boxing circuit, is so keen on the fight, he should give him a phone call. "If Floyd wants to fight Conor — call me, Floyd," White added.
Asked where the fight would take place, the UFC president didn't mince his words. "It would be a UFC thing, 100 per cent."
McGregor was originally scheduled to take on Nick Diaz for a second time in a non-welterweight title bout at UFC 200, but the UFC later removed the Irishman from the fight card after he decided not to attend the promotional events ahead of the fight. However, it is widely reported that McGregor could be set for that highly-anticipated rematch in UFC 202.
"Conor and I have been talking every day," said Dana, clearing doubts of any bad blood between them. "We're gonna have dinner next week. Our relationship is great. We're gonna put the little speed bump in the road behind us and move forward. Everything is great.
"No deal is done for [UFC] 202. We're getting together next week and we're going to figure out what's next," White added.