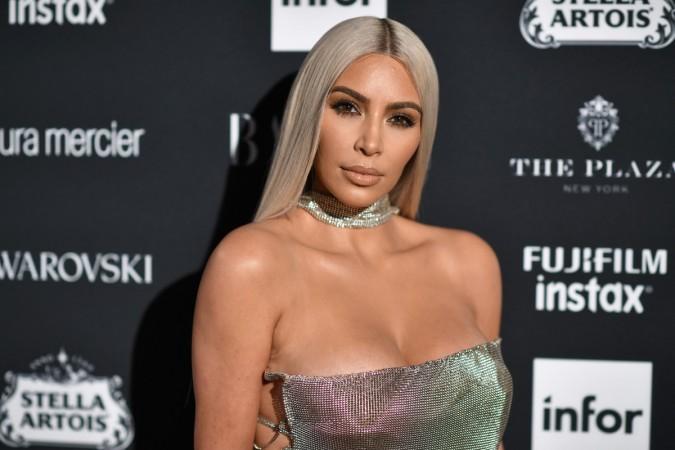 It's just one month into 2018 and Kim Kardashian has already owned this year. The mother-of-three has been setting the internet ablaze with a series of raunchy pictures.
The very sexy star has been teasing fans with an extreme display of skin online. Recently, she flashed her assets to drop several jaws and the Kardashian sister is back yet again to let followers and fans know she's not done with teasing the hell out of them.'
Also read: Bella and Gigi Hadid bare it all for a racy photoshoot
Kim turned the night hotter when she posed in a pair of black bikini. Flaunting her inevitable curves in the raunchy shot, Kim displayed her voluminous assets in the shot.
Ditching the highly criticised braids, Kim is seen sporting a newspaper printed robe on the skimpy two-piece attire. She completed the look with a pair of transparent high heels and her blonde locks settling around her bare shoulders.
"Here we go! Round two everybody! Places!" announced a follower as Kim returned to share more raunchy pictures. "We haven't recovered from last night," added another follower. "You look amazing. Body goals for sure," a user commented on her Instagram post.
Her new picture comes post an online backlash. Before Kim shared the sexy black bikini-clad picture, she took the internet by storm posing a white thong and flashing her assets. While her petite frame was enough to get fans restless, her braids got tongues wagging.
Many followers slammed her for sporting the hairstyle. The reality star revealed that her controversial braids were inspired by actress Bo Derek.
She eventually had to address the reaction. "Hi, can I get zero f**ks please, thanks," she captioned a picture, reacting to her critics.
Apart from her controversial braids and her sultry photos, Kim also made headlines for clapping back at Lindsay Lohan. Blogger Perez Hilton posted one of Kim's new looks on her Instagram account and asked fans about their thoughts on it. The Mean Girls star dropped a comment confessing she was "confused" by her new look.
Kim immediately responded: "You know what's confusing..... Your sudden foreign accent." Ouch! Kim's on fire.