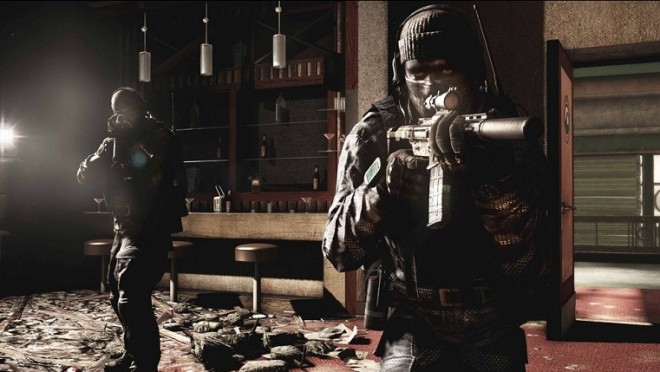 Developer Infinity Ward and publisher Activision's FPS title, Call of Duty: Ghosts gets four new maps as a part of the Invasion downloadable content (DLC) that will give a boost to its multiplayer maps and will also see the addition of a new instalment in Extinction.
Rolling out the details of the Invasion DLC pack, which is the third pack for the game, Major Nelson provided the details of all the four new multiplayer maps that will be added on 3 June 2014.
Below are the four multiplayer maps to be instituted by this update:
Departed – Players will find the map to be set amidst the Dia de los Muertos (the Day of the Dead) celebration in a rural Mexican town. The map is said to be of medium sized and will be featuring a "classic three-lane design" that will include "decorative streets, back alleys and festive cemetery" along with providing ample cover for players. Players who are able to complete the Field Order will be able to unlock Death Mariachi killstreak, that will arm the player with dual wielding pistols that can turn the kills into squad mates.
Pharoah – Set in an ancient Egyptian palace which is now an abandoned archaeological site. The pyramids offer backdrop to this medium sized map. The map will include collapsing monuments and urns that will have scarabs that eat flesh and fire busting out from corners. The map is good for close-quarter battles which will be set in chambers, throne room, temples. Players must watch out for Anubis, the half-jackal/half-human, who is known as the protector of the dead. Players will be rewarded for their exploration of the map.
Mutiny – This map will transport players to a remote Caribbean Island that has a secret pirate hideout and will also have trading posts and prison cells that have been abandoned. Players will have to concentrate more on speed and stealth in this map. Players will also be surprised to find treasure hidden and will give players one of the most unique killsteak, that will grant them ghost pirates that will be able to kill rivals.
Favela – This is a fan-favorite map from Call of Duty: Modern Warfare 2's Favela. However, this map has many changes from the older one with constructed buildings and some buildings are in a state of decay. The map will have "narrow passageways, multiple housing complexes, and abandoned storefronts" which will warrant usage of short range weapons.
This update will also be adding a new storyline in the form of Episode 3: Awakening for Extinction expansion pack. This will be adding three new Cryptid species and players will able to disembark into the alien underworld and attack the creators of Cryptid invasion.
Invasion DLC will be available for $14.99 and will also be part of the Season Pass.
(YouTube Courtesy: xbox)