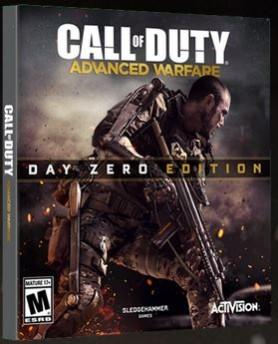 The countdown has finally come to an end - the air started smelling heavy with gun powders and Doritos and that leads to only one thing - Call of Duty: Modern Warfare has arrived with a bang.
After a thumbs-down response to the last versions, we all were expecting a killer new version with mind-boggling tricks and an exciting gameplay, which may leave us breathless.
Call of Duty: Advance Warfare is the exact game, the gamers were waiting for - with the power of the next generation of advanced soldier, the power of a gripping performance from Kevin Spacey, the power of all-new exoskeleton gameplay mechanics - power changes everything.
Call of Duty: Advanced Warfare delivers an inspired new era of Call of Duty Published by Activision Publishing Inc, a wholly owned subsidiary of Activision Blizzard, and developed for next-gen consoles and PC by Sledgehammer Games, Call of Duty: Advanced Warfare delivers a breath-taking new vision for the blockbuster franchise.
"We've made several key decisions with an eye towards creative excellence on Call of Duty: Advanced Warfare. We've really approached this game differently," said Eric Hirshberg, CEO of Activision Publishing.
"This is our first three-year development cycle. It's our first time with Sledgehammer Games at the creative helm. And we're shaking up the formula in several ways. New core gameplay mechanics with the exoskeleton suit. A riveting new story. An iconic new character played by one of the world's best actors in Kevin Spacey. We're having a lot of fun making this game, and we think the world is going to have even more fun playing it," he added.
Set in the year 2054, a private military corporation has appeared with the power to rescue humanity from a devastated world, struggling to rebuild after a global attack on its military and infrastructure. You are the advanced soldier. Empowered with new, cutting-edge exoskeleton abilities, technological advancements and high-tech gear, players join the ranks of a highly-trained, specialised unit committed to restoring order in a state of advanced warfare.
"It's been a lot of fun working with the team to bring Jonathan Irons to life. The technology is truly remarkable and unlike anything I've done before. I'm excited to see where this goes," said Academy Award winner Kevin Spacey.
Call of Duty: Advanced Warfare is being developed specifically for next gen consoles and PC. This is the first iteration of publisher Activision's expanded three-year development cycle allowing the debut lead title from Sledgehammer Games an added year of studio development.
"This is an opportunity of a lifetime, and an honor for Sledgehammer Games. Call of Duty: Advanced Warfare is the most ambitious and creative project we have ever worked on. From the endless research and thousands of production designs, to our incredible focus on the narrative and amazing attention to detail - we're taking nothing for granted," said Glen Schofield, co-founder and game director of Sledgehammer Games. "Call of Duty connects with the fans on such a deep level, and crafting a new vision for the next generation has been so inspiring for us."
Michael Condrey, co-founder and studio head of Sledgehammer Games added, "Glen and I created this team with the singular vision of delivering the best work of our lives. We know we're stepping into some pretty big shoes, but every day I'm amazed at the talent and focus at work here touching everything from the story experience to multiplayer. We're excited to lead the next chapter in this great franchise, and we can't wait for November 4th."
Starting today, fans can begin pre-ordering their copy of Call of Duty: Advanced Warfare at retail outlets worldwide.