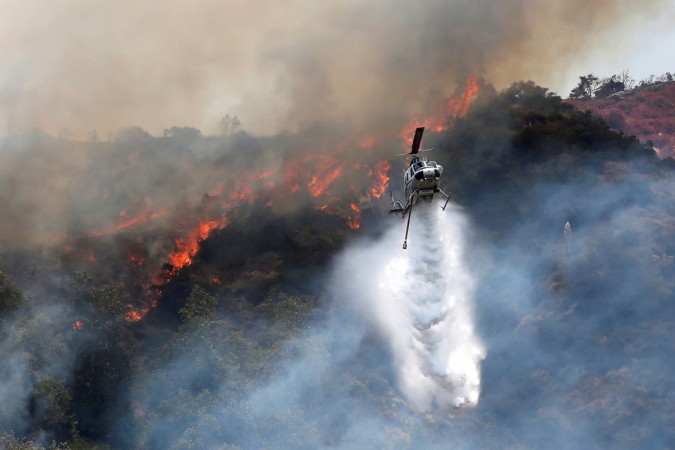 Dozens of homes have reportedly been destroyed and hundreds of people have been evacuated on Friday due to a wildfire around Isabella Lake in central California.
According to Reuters, around 80 houses have been destroyed in the wildfire and more than 1,000 are at risk. The agency, citing fire website InciWeb, quoted officials as saying that they were trying to bring the fire under control and have deployed 350 fire-fighters to douse the blaze with several hundred on their way for further assistance.
Around 1,500 structures were under threat till Thursday night. Residents have been asked to evacuate the area, while two fire-fighters have been injured due to inhaling of smoke, the news outlet.
The Erskine fire broke out around 68 km northeast of Bakersfield in the foothills of Kern County on Thursday afternoon, engulfing over 5,200 acres of parched grass and chaparral within hours. Only 15 percent of the fire's perimeter was surrounded with containment lines.
Kern County Fire Department's Facebook page carried footage of the flames engulfing homes and spreading across foothills as fire-fighting helicopters tried to bring the blaze under control.
Fire-fighters were still battling to bring under control wildfires in the Los Angeles County foothills in the south, Reuters reported.
According to a BBC report, a number of wildfires, caused due to hot weather conditions in western United States, have broken out in California. The state has been facing drought since five years.
The channel, citing InciWeb, reported that there is no electricity in the area, roads have been closed and evacuations are being carried out. People were being given shelter at a school. While there have been no injuries reported, fire officials were quoted by the channel as saying that evacuation orders had been ignored by a few residents.
One of the biggest wildfires in California broke out in 2003 in San Diego killing 15 people and engulfing 2,820 buildings. The worst one broke out in Los Angeles in 1933 claiming the lives of 29 people, BBC reported.