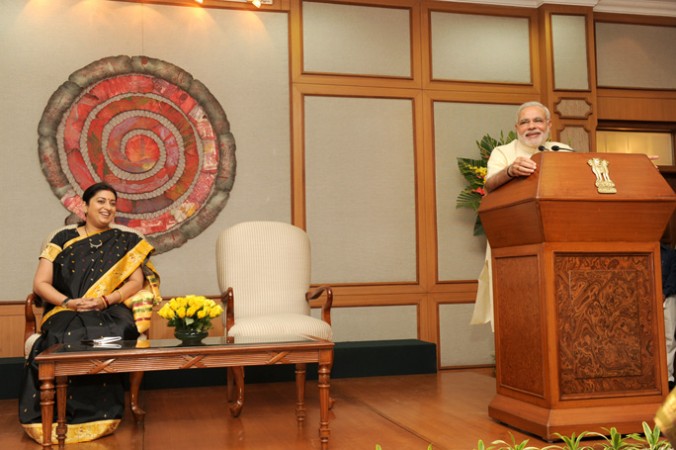 Smriti Irani's removal as Human Resource Development (HRD) minister was one of the biggest changes in the Cabinet on Tuesday. She has been assigned the Textiles ministry while Prakash Javadekar, who was earlier the minister of state (independent charge) for environment, was given the HRD ministry.
Irani trended on Twitter on Wednesday, with more than 26,000 tweets being posted on the matter. Irani's removal was reportedly suggested by the Rashtriya Swayamsewak Sangh, which was also said to have influenced the other appointments among the 19 new faces that were inducted on Tuesday.
Irani led a controversial time at the helm of the HRD ministry. She was targeted repeatedly by the Opposition for several issues, from the Rohith Vemula suicide case to removal of vice chancellors of central universities. She first courted controversy right after her appointment in 2014 when her educational qualifications were questioned.
While some speculations suggest that her removal to the quieter ministry was done as she could be projected as the chief ministerial candidate in Uttar Pradesh during Assembly elections in 2017, other reports said that she had displeased the RSS. However, senior party leaders in Uttar Pradesh could block her appointment to the candidature despite her strong attempt to dethrone the Gandhis from Amethi in 2014. She had at the time contested and lost the Lok Sabha elections against Rahul Gandhi from the constituency.
The Indian Express reported that the HRD ministry and the Prime Minister's Office (PMO) were involved in disagreements over establishment of "world class universities" and the IIM Bill. Meanwhile, NDTV quoted a senior leader as saying that Irani had made Bharatiya Janata Party (BJP) President Amit Shah unhappy during a national executive meeting in Bengaluru in 2015.
Known for her fiery speeches, she was dubbed as "aunty national" when students of Jawaharlal Nehru University were being categorised as "anti-national" for holding an event commemorating Mumbai attacks convict Afzal Guru.