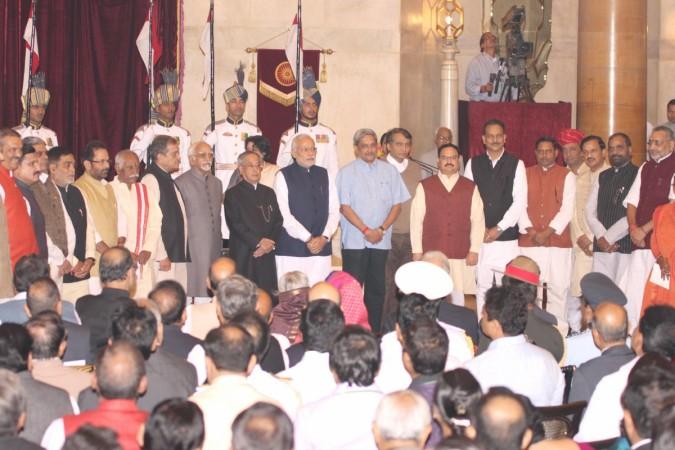 Marred by Shiv Sena's boycott, Prime Minister Narendra Modi on Sunday expanded his union council of ministers, inducting 21 new faces, including four with cabinet rank, giving wide representation to several northern and central states and keeping the age limit well under 68.
The much-anticipated first ministry expansion was marred with ally Shiv Sena calling off participation in the government at the last minute - exacerbating their already strained ties.
Former Shiv Sena leader Suresh Prabhu was sworn-in as a cabinet minister. Prabhu, who is the prime minister's interlocutor for the G20, has joined the Bharatiya Janata Party (BJP) and is expected to become a Rajya Sabha member.
The Sena at the last minute recalled Anil Desai, who it had nominated for induction in the union ministry. According to reports, Desai arrived in Delhi for the oath-taking ceremony but was ordered to return. The growing bitterness could have further ramifications in Maharashtra, where the two former long-time allies have failed to reach an agreement over government formation.
This also puts a question mark on the continuance of lone Shiv Sena representative Anant Geete in the Modi ministry. Geeta is cabinet minister for heavy industries and public enterprises.
With the new induction, Modi's 45-member ministry now totals 66. He inducted four cabinet ministers, three ministers of state with independent charge, and 14 ministers of state (MoS).
Former Goa Chief Minister Manohar Parrikar, who is widely tipped to get the defence portfolio, was the first to take oath at the Durbar Hall of Rashtrapati Bhavan.
BJP general secretary J.P. Nadda, who is known to be close to Modi and party chief Amit Shah, and Birender Singh, who left the Congress ahead of the recent Haryana assembly elections to join the BJP, were administered oath as cabinet ministers by President Pranab Mukherjee.
Modi also brought into his ministry the party's known Muslim face in Mukhtar Abbas Naqvi, adding to Najma Heptullah, who is minority affairs minister. Naqvi is an MoS.
He also added to the representation of women by inducting Sadhvi Niranjan Jyoti, BJP MP from Fatehpur in Uttar Pradesh, taking the number to eight.
Giriraj Singh, 61, who courted controversy with his comment while campaigning for the national elections that "those who oppose Narendra Modi should go to Pakistan" and was also booked for the hate speech, also got a place as minister of state.
The new ministry has most people in their 50s, with the oldest being Bandaru Dattatreya, MoS independent charge, at 68.
The youngest is well-known singer Babul Supriyo, the only face in the ministry from West Bengal. The Asansol MP, who was inducted as MoS, is 43, while Olympian shooter Col. Rajyavardhan Singh Rathore is 44.
The only National Democratic Alliance (NDA) ally to get a berth in Sunday's expansion was Telugu Desam Party (TDP) Rajya Sabha MP, Y.S. Chowdary as an MoS.
Among those who were widely tipped to get a berth and were inducted are Rajiv Pratap Rudy, MoS independent charge, Ram Kirpal Yadav, a former Lalu Prasad aide who quit the Rashtriya Janata Dal, Jayant Sinha, son of BJP veteran Yashwant Sinha, and Vijay Sampla, BJP Hoshiarpur MP.
Sinha's entry into the government marks the coming in of the second generation of BJP politicians. The IIT-Delhi and Harvard-educated Hazaribagh MP is an investment fund manager and management consultant. His entry is likely to give a fillip to BJP's chances in Jharkhand which goes to the polls in November-December.
Another new face is Hansraj Ahir, BJP MP from Maharashtra. Ahir is well-known for having unearthed the coal mining scam. He took oath as an MoS.
The states to get wide representation are Maharashtra, where BJP has formed the government for the first time, with two ministers -- Suresh Prabhu and Ahir, adding to the prominent names already in the cabinet, including Nitin Gadkari and Prakash Javadekar.
In Haryana, where it won in the recent Assembly elections and formed the government, has a new minister in Birender Singh.
Keeping in mind the forthcoming elections in Bihar, the council has three new faces from the state - Rajiv Pratap Rudy, Ram Kirpal Yadav and Giriraj Singh. Union ministers Ram Vilas Paswan and Ravi Shankar Prasad are from Bihar.
Uttar Pradesh got the largest representation, with four new faces -- Mahesh Sharma, a doctor who owns Kailash Hospital and is an MP from Gautam Buddh Nagar (Noida); Naqvi, who is a Rajya Sabha member; Ram Shankar Katheria, Agra MP; and Sadhvi Niranjan Jyoti.
Gujarat, where Modi was the chief minister for three terms, got two new faces in Haribhai Parthibhai Chaudhary, and Mohanbhai Kalyanjibhai Kundarya.