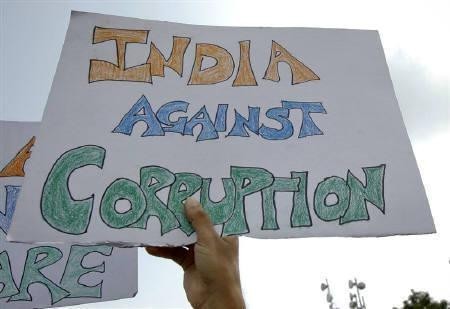 The Union Cabinet cleared the revised Lokpal Bill on Thursday but anti-corruption activist Anna Hazare has termed the new draft as "useless" and promised to continue the fight until the government passes a strong one.
The revised bill has incorporated 14 of the 16 amendments recommended by the Rajya Sabha Select Committee, which was constituted after the draft bill failed to gather support in the Upper House of the Parliament.
According to the amended draft, every state should have a Lokayukta within a year from the day the government passes the bill. The appointment of the Lokayukta has been left to the states and and people affiliated with political parties can't be a part of the Lokpal panel.
The Central Bureau of Investigation (CBI) has been kept out of the Lokpal ambit but it will be under the Lokpal supervision.
The Director of Prosecution should be appointed by the Central Vigilance Commission (CVC) unlike the earlier bill which gives this power to the Centre. Public servants will be given a chance to present their view before an inquiry.
Lokpal can order a probe straightaway and NGOs other than religious organizations will come under the Lokpal purview, according to the new draft.
However, Anna Hazare, who had demanded that the CVC and CBI be brought under the Lokpal, is not impressed with the revised bill, saying that it will not help fight corruption.
"The proposed new draft of the Lokpal Bill is useless. We will continue our fight for the Jan Lokpal Bill and force the government to pass it," he told reporters. "Such a bill will not benefit the people."
Anti-corruption crusader and Aam Aadmi Party (AAP) convener Arvind Kejriwal also slammed the government for coming up with a weak bill.
"Why does the government not fulfill one single demand and make the CBI independent? There is no point making committees after committees," PTI quoted him as saying.
The amended bill will now be put to vote in the Rajya Sabha. It will be placed before the Lok Sabha for fresh approval once the Upper House clears it.