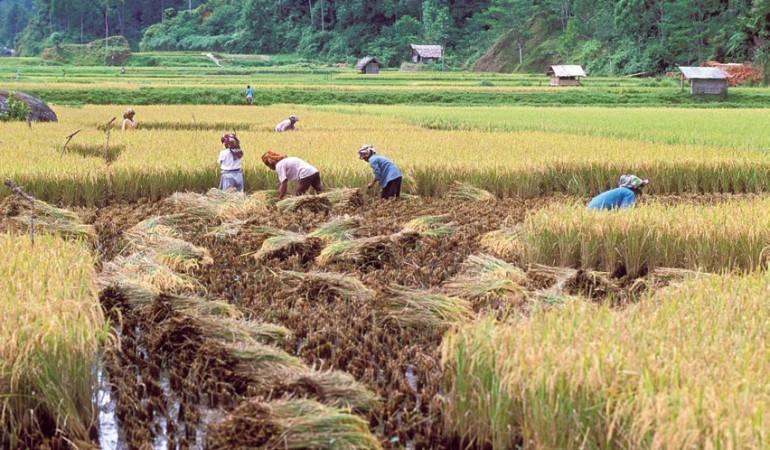 The Narendra Modi government has cleared the deck for increasing the minimum support price (MSP) for paddy by a steep Rs 200 per quintal. This hike is the maximum increase in MSP for paddy crop.
In 2012-2013, the UPA-II government had announced the previous highest rise in the paddy MSP with a hike of Rs. 170 a quintal. In the first four years of its government, the Narendra Modi government had raised the MSP between Rs 50-Rs 80 per quintal.
The Bharatiya Janata Party (BJP) had come to power in 2014 with a promise of giving farmers a price of 1.5 times of the input cost. In this year's budget, Finance Minister Arun Jaitley had also announced a corpus of Rs 1,500 crore for the MSP support to the farmers.
The Modi government also plans to double the farmer's income by 2022 and in the same direction, they have taken a series of measures.
The approval for the hike of MSP was taken by the Cabinet Committee on Economic Affairs (CCEA) chaired by Prime Minister.
The steepest ever increase in MSP is expected to benefit farmers in the driest region of the country. One-fourth area under such lands is heading towards polls this year.
Farmer bodies lauded the announcement made by the government but they also argued that the increase in oil prices was not taken into consideration while finalizing the MSP prices.
Stock markets reacted positively to the decision taken by the government to arrest the farm distress. Bombay Stock Exchange was trading lower in the initial part of the day. After the announcement market showed its strength to close over 200 points on Wednesday.
Economic experts fear that the increase in MSP could be a possible hindrance to the government's target of maintaining 3.5 percent fiscal deficit. The excess money supply in the market may also trigger inflation in the economy which could eventually lead to a further depreciation in the value of money.