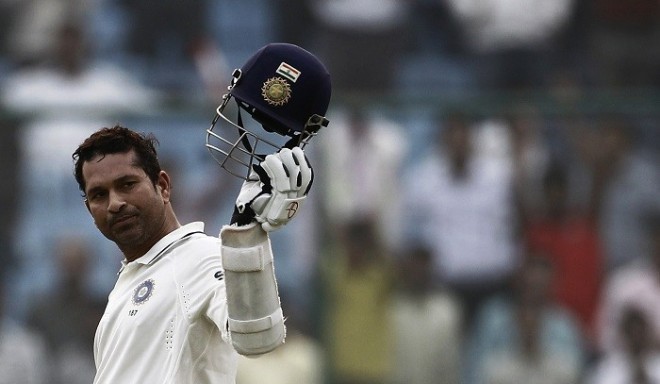 For most people the memory of watching Sachin Tendulkar bat live is more than enough to sustain their cricket penchant; however, for those that want a little bit more, the Cricket Association of Bengal (CAB) have a plan - put the Little Master's photo on the tickets, so that it can eventually become a bit of a "collector's item."
Sachin Tendulkar is set to play his 199th and penultimate Test at the Eden Gardens in Kolkata, and CAB want to make it as memorable as possible when the little big man puts on his whites from November 6-10.
"Normally, we don't have the practice of printing any particular cricketer's photograph in a match ticket," CAB treasurer Biswarup Dey said. "But this is a special and emotional occasion as well.
"Therefore we would like to seek BCCI's permission if we can use any action photograph of Tendulkar at the Eden Gardens. Once we get the permission, we will issue print order.
"It will be like a collector's item for all those who get hold of one ticket. It gives you a feeling of 'I was there on that day.'
Dey also confirmed the CAB would start selling tickets once the match timings were confirmed, with the first Test against the West Indies set for a possible early start owing to light issues in the Eastern part of India during this time of the year.
"We are waiting for confirmation of what will be scheduled start, 9:15 a.m. or 9:30 a.m. as sun sets quickly in the eastern part," Dey added. "Once the broadcasters confirm that, we will put the tickets up for sale."
Tendulkar, of course, will be felicitated by the CAB during the 199th Test, but the decision on the manner of the welcoming has not been made as yet. The CAB has been closed for the past few days on account of Durga Puja, with the association's president Jagmohan Dalmiya set to take a final decision, although it is believed the CAB will invite West Indies legend Brian Lara to watch Sachin play his second-last Test match.
"The final decision on how we would felicitate Sachin will be taken by Mr. Dalmiya," CAB joint secretary Subir Ganguly said. "We will decide something concrete by the end of next week."