Xiaomi just launched the Mi Max 2 in India and it used the stage to announce a significant feat of completing three years since the brand entered the country. On July 20, Xiaomi will commemorate this occasion with Mi Anniversary sale, which will put together the best of deals and discounts and not to mention the Re. 1 flash sale.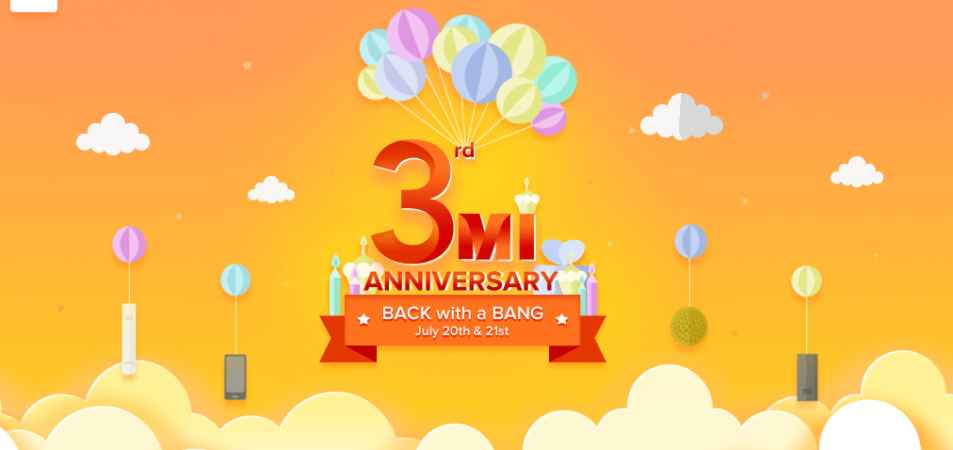 Xiaomi's Re. 1 flash sales are quite popular. During this sale, the company offers some of its best-selling products for just Re. 1 – no questions asked. The upcoming "3rd Mi Anniversary" fest on Thursday, July 20 and Friday, July 21, will include the newly-launched 10,000mAh Mi Power Bank 2, Redmi 4A (2GB RAM) and Wi-Fi Repeater 2 in its Re. 1 flash sale.
How to participate in Re. 1 flash sale?
In order to participate in the sale, users must first go to Mi's official website and tap on "Grab Coupons" and "share to register". The next step is to wait until the Re. 1 flash sale opens. The first Re. 1 flash sale will begin at 11 am on Thursday, quickly followed by 1 pm on the same day. Shoppers who miss this chance can try again on Friday at same times.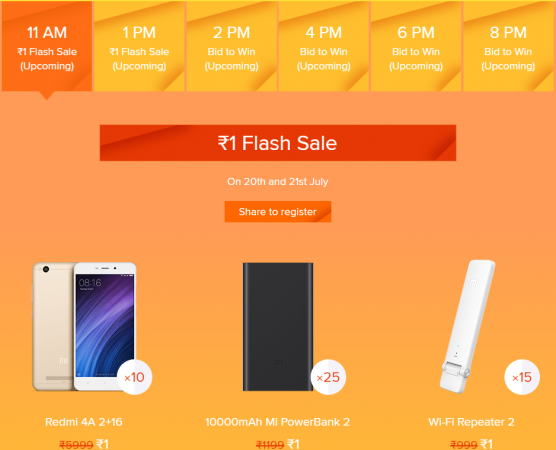 Considering how popular the Re. 1 flash sales are on Mi.com, we'd advise you stay proactive and punctual. The sale will likely be over in a matter of seconds.
Bid to Win contest
Xiaomi is also hosting "bid to win" competition, where shoppers must place a winning bid for Redmi 4A, VR Play and 10,000mAh Mi Power Bank 2. The condition is that the bid must be "lowest and unique" in order to win any of the products. Unlike the Re. 1 flash sale, Mi fans will have four chances. On July 20 and July 21, participants can place their bid when the "Bid to Win" window opens at 2 pm, 4 pm, 6 pm and 8 pm.
Coupons
Other than the Re. 1 flash sale and "Bid to Win" contests, there are a lot of surprises for participating Mi fans. Purchase anything during the Mi Anniversary sale and fetch Rs. 2,000 off on Goibibo hotel bookings. SBI card holders can get extra 5 percent cashback of up to Rs. 500 on transactions worth more than Rs. 8,000.
Buy Xiaomi Redmi 4, Redmi Note 4 and Redmi 4A
Those who've tried purchasing Redmi 4, Redmi Note 4 and Redmi 4A in the past know the hassles. But Xiaomi will host a sale of all three phones on Thursday, starting at 12 pm. There's no information on how many units will be available, but if you really consider buying any of the three phones, we'd suggest you act fast.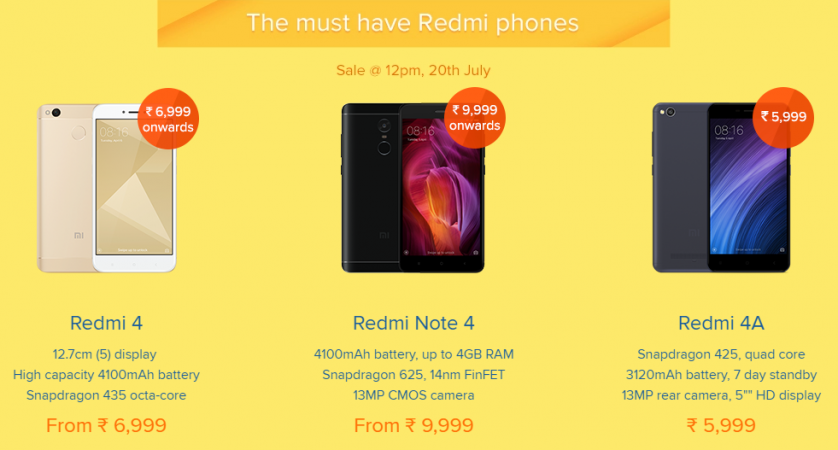 Discounts on Mi accessories
Here's a list of all the Mi accessories that will be on discount during the Mi Anniversary sale this week:
Mi Capsule Earphones: Rs. 899 (Rs. 100 off)
Mi Headphones Comfort: Rs. 2,699 (Rs. 300 off)
Mi In-Ear Headphones Pro HD: Rs. 1,799 (Rs. 200 off)
Mi In-Ear Headphones Basic: Rs. 549 (Rs. 50 off)
Mi VR Play: Rs. 699 (Rs. 300 off)
Mi Selfie Stick: Rs. 599 (Rs. 100 off)
Mi Air Purifier Bundle: Rs. 10,990 (Rs. 1,500 off)
Mi Wi-Fi Repeater 2: Rs. 799 (Rs. 200 off)