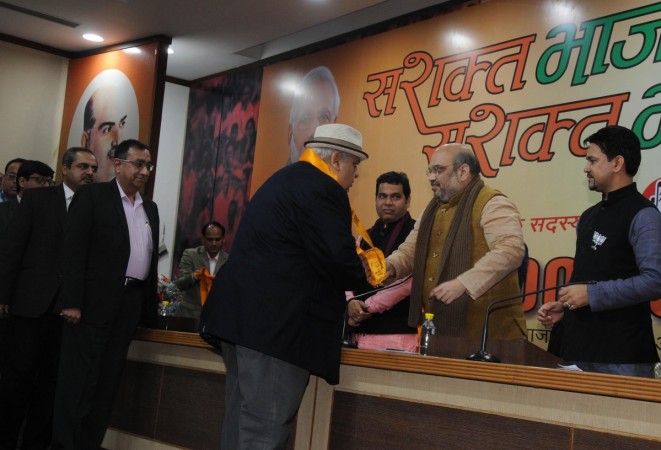 Top executives of about 100 companies, including those from Lufthansa, Qatar Airways, AT&T and Fortis Hospital joined the Bharatiya Janata Party (BJP) in New Delhi on Sunday (1 February).
But out of the 100 executives who joined, the press release mentioned few names.
"Over 100 Chief Executive Officers or CEOs became members of the BJP today which included Perveiz Alamgir Khan from Lufthansa; Henry Moses, country head of Qatar Airlines; Neeta Agarwal of AT&T and Jagpreet Lamba of AIKON Group," PTI cited an excerpt from a press statement issued by the party's youth wing Bhartiya Janata Yuva Morcha (BJYM).
Kapil Kumaria of Corporate Alliance group, Dr Naveen Talwar of Fortis Hospital, senior advocate Rajeev Tyagi and Rajiv Bhambri of India Abroad and also executives from Bank of America, Honeywell, SpiceJet, Bombardier, UTC, KPMG were among those who joined the party, said Hindustan Times, quoting a BJP press release.
Shah and BJYM president Anurag Thakur asked them to help the party in taking ahead Prime Minister Narendra Modi's development vision by creating more job opportunities and contributing to his 'Make in India' campaign.
To portray a business-friendly image, Shah assured them that the Goods and Service Tax (GST) will be rolled out from April next year. "India is gaining a reputation across the globe under Modi's leadership. The country will soon start riding the high-growth path," he said.
Thakur expressed his pleasure over professionals, administrators, CEOs and Entrepreneurs' (PACE) decision to join the BJP and said this move will motivate their employees to follow suit.