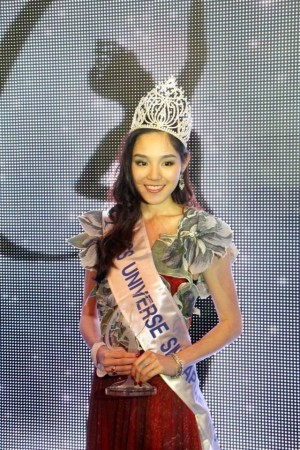 Shi Lim, a 24-year-old business executive, was crowned Miss Universe Singapore 2013 on Saturday, setting an example of beauty with brains.
Standing tall at 1.76 metres, Miss Lim, a graduate of New York University (NYU) and a business executive at an investment firm, towered over fellow contestants literally.
Lim, with her impressive academic record, reminded many of the pageant's 2002 winner Nuraliza Osman, who was a lawyer by profession.
The newly-crowned diva, who shifted to Canada in her teens and continued her higher education in North America, lived out of the country for eight years but considers herself no different from fellow denizens.
"I grew up in here and live with my family in the Upper Bukit Timah area. My family and I initially moved to Canada when I was 16 because my father was pursuing his Masters degree," she said in an interview, reported Yahoo Singapore.
Lim studied at Queen's University in Kingston, Ontario, for two years before moving to the reputed NYU. She said she progressed from an average secondary school student to a top graduate in her later years. She holds an impressive 4.0 Grade Point Average (GPA) and 3.75 accumulative GPA putting her into the list of A-graders.
Lim seemed pretty at ease during the Q&A round of the beauty contest.
When asked "If footballers make tons of money, would you allow your son to be one in place of education?" she replied, "If football was my son's passion, then yes, I would allow him to pursue it, but not in place of education."
"I believe you can find a balance between both, and education can help refine one's learning and critical thinking skills."
"Knowledge is very important, it leads to a fuller and more vibrant life, so if he can find a balance between them, that would be most ideal."
On Lim's victory, Errol Pang, owner of Miss Universe Singapore organiser Derrol Stepenny Promotions said, "She definitely deserves the crown. She's beautiful, she speaks well and carries herself well and can give a straight-to-the-point answers," reported The New Paper.
Judge and Former Miss Universe Singapore Eunice Olsen said, "And I think generally she did really well in all three segments of the competition (evening wear, swimwear and Q&A) and I think we should come together and support her."
The other winners of the pageant were first runner-up Cheryl Desiree Chan, an entrepreneur and second runner-up Cordelia Low, a 24-year-old events coordinator.
Lim will be competing for the Miss Universe title 2013 to be held in Moscow on 9 November.